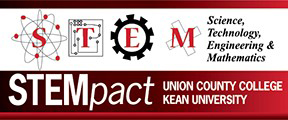 Welcome!
In October 2014, Union County College/Kean University received a $3.2 million dollar, five-year federal Title V Cooperative grant to improve the access and success of at-risk, Hispanic and low-income students completing postsecondary degrees in STEM and teacher education majors. Through the STEMpact project, Union will serve as the lead partner with Kean University to develop a strong model of transfer and articulation in higher education to promote success of Hispanics and low-income students in STEM and teaching fields.
With the primary goal of improving retention, completion, and transfer rates among Hispanic and low-income STEM and education students, this cooperative agreement will consist of two primary activities:
Improving Student Retention, graduation and transfer
Activity One will improve student retention, graduation and transfer through: 1) a joint admissions agreement; 2) development of student access and engagement centers at both institutions, enhanced high-impact undergraduate activities, and improved advising models; and 3) increased academic support through the implementation of a Peer-Led Team Learning Model.
Enhance teaching and learning
Activity Two seeks to enhance teaching and learning in STEM and education fields by: 1) implementation of a comprehensive faculty professional development series, promoting innovative pedagogy to increase student retention and academic success; 2) updated labs, equipment, software and instrumentation; and 3) increased student academic support through hands-on inquiry based discovery in instruction and a content and media management system.
Hours of Operation

September – MayMonday through Friday: 8:30 a.m. to 4:30 p.m.June –August
Monday through Thursday: 8:00 a.m. to 5:15 p.m.
Friday – Union County College Closed
Location:
MacKay Library Cranford Campus, Room L-301
STEM Center Main Phone:
908-497-4214