OWL Orientation at Union County College is required for students who have never attended college before and are planning on registering for 12+ credits during the Fall or Spring semester. Sessions are offered on all three campuses: Cranford, Elizabeth, and Plainfield. Part time students are encouraged, but not required, to attend OWL Orientation. At OWL Orientation students will learn how to use webservices, set up college email, navigate the Owls Nest, meet with an academic advisor, and register for courses. Attending these sessions will help you build a solid foundation for student success.
Click the thumbnail below to review the agenda for OWL Orientation.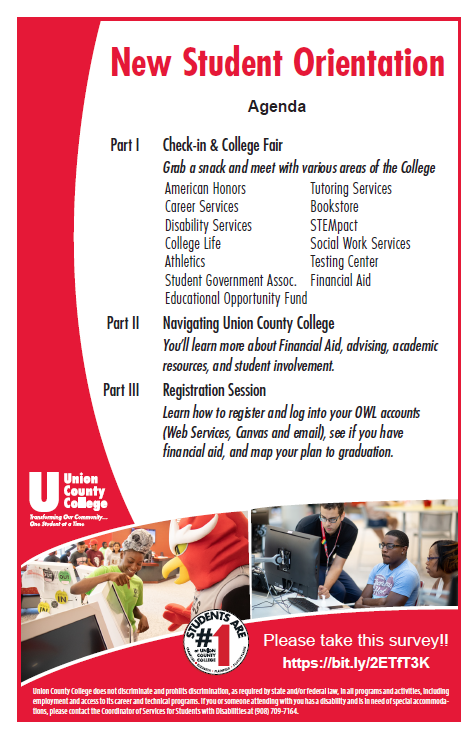 Pre – OWL Orientation Check-list:
Go to your personal email to obtain your unique Union County College User Name and Student ID#

Log into Webservices
Log into your Owl Email

Make sure your FAFSA is complete and you listed Union as a school! (School Code: 002643)
Please have one of the following items completed:
1. Submitted a High School transcript with a 3.0 or higher cumulative GPA and have graduated within the last 5 year
2. Completed the college placement exam (Accuplacer)
3. Submitted SAT scores (530 in Math and 540 in Reading) 4. Expected AP scores of >3 for English or Math
Union County 2019 High School Graduates OWL Orientation Schedule Students who attend will receive an excused absence letter stating that they attended their event Meet us on the Cranford Campus at 8:45AM in the Victor Richel Student Commons
 
 
 
May 1st, 2019
May 16th, 2019
May 17th, 2019
If you missed this Orientation, click the link below and select "Any High School – Elizabeth" as your high school
Academy for Allied Health Sciences
Abraham Clark High School
 
Academy for Information Technology
Hillside High School
Admiral William F. Halsey Jr. Health & Public Safety Academy
Arthur L. Johnson High School
Linden High School
Alexander Hamilton Preparatory Academy
Barack Obama High School
Rahway High School
Benedictine Academy
Cornerstone Day School
Roselle Catholic High School
Elizabeth High School – Frank J. Cicarell Academy
Cranford High School
Roselle Park High School
J. Christian Bollwage Finance Academy
David Brearley High School
Sinai Christian Academy
John E. Dwyer Technology Academy
Governor Livingston High School
The Patrick School
St. Mary's of the Assumption High School
Jonathan Dayton High School
Union High School
Thomas A. Edison Career & Technical Academy
Koinonia Academy
 
Thomas Jefferson Arts Academy
Mother Seton Regional High School
 
 
New Providence High School
 
 
Plainfield Academy for the Arts and Advanced Studies
 
 
Plainfield High School
 
 
Scotch Plains Fanwood High School
 
 
Summit High School
 
 
The Barack Obama Green Charter High School
 
 
Union Catholic High School
 
 
Union County Magnet High School
 
 
Union County Teams
 
 
Union County Vocational – Technical High School
 
 
Westfield High School
 
To sign up for this date, please click here
To sign up for this date, please click here
To sign up for this date, please click here
If you are interested in enrolling in the Fall 2019 semester and are not a 2019 Union County High School graduate, click the thumbnail below for more information about your Orientation date!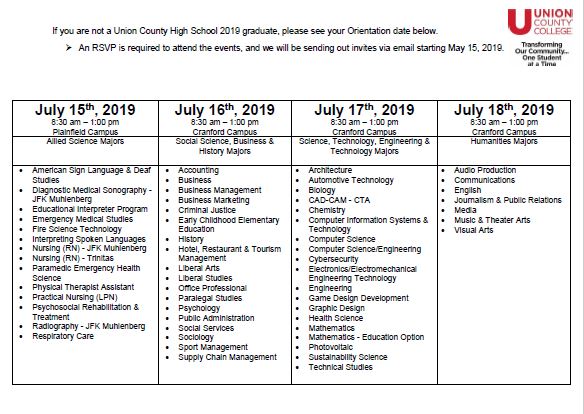 Questions? Please contact us at orientation@ucc.edu
Do not click these links unless you are at Orientation!