Union County College Hires New Dean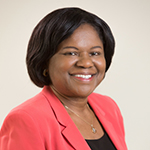 CRANFORD – Dr. Victoria C. Ukachukwu joins Union County College's administration as the new Dean of the Plainfield Campus and Allied Sciences. Dr. Ukachukwu brings more than 18 years of experience in higher education to Union, having previously served as an academic administrator and researcher.
As the Dean of the Plainfield Campus and Allied Health, Dr. Ukachukwu will oversee all operations of the campus, and will provide leadership and supervision for faculty and staff in the areas of teaching, curriculum revision and development, technology, and assessment, with a focus on academic excellence. In addition, she will participate in the planning, execution, and measurement of student outcomes, manage the administrative affairs of the Academic Division, and promote diversity and value a culture of respect among faculty and staff.
Prior to her arrival at Union, Dr. Ukachukwu served as the Assistant Vice President for Academic Affairs/Director of Health Sciences at Caldwell University in Caldwell, NJ. In this role, she provided leadership for the development and administration of academic programs, services, policies, procedures, and personnel. She worked collaboratively with the faculty and staff on strategic planning; assisted with the accreditation and self-study review; served on committees and chaired committee meetings in the absence of the Vice President for Academic Affairs; oversaw the revitalization of online education at the University to comply with accreditation standards; supervised the development of non-credit programs for professional and continuing studies; and served as a representative to the College's external constituencies.
As the Director of the Health Professions Program, Dr. Ukachukwu developed and administered academic partnerships with various health professional schools. She negotiated five new health professions affiliation agreements and managed existing agreements. She served as Chair to the Health Professions Committee in which she assisted with the review of student application packets and scheduled the interviews for the professional school applicants. Dr. Ukachukwu was the pre-health advisor for more than 100 pre-health students, and established and served as the advisor to the Health Professions Club.
Prior to her time at Caldwell, Dr. Ukachukwu served as Vice Dean for University College of Rutgers University in New Brunswick. During her tenure, enrollment increased from 2700 to 3500 non-traditional students and she oversaw a $1 million dollar budget. Dr. Ukachukwu also supervised faculty committees on academic policy, honors and scholarship, and academic standing for students.
Dr. Ukachukwu, for many years taught chemistry at Caldwell University, Union County College, Rutgers University, and Lebanon Valley College in Pennsylvania. She holds a Ph.D. in Organic Chemistry from Georgia Institute of Technology and was a Post-Doctoral Research Fellow Synthetic Methods in Organic Chemistry at the University of Maryland, Baltimore County.