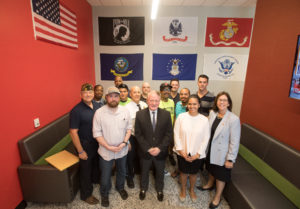 On Mon., July 31, 2017, Congressman Leonard Lance visited Union County College's Cranford campus and toured the Veterans Center with Union President Margaret M. McMenamin. Located in the Helen E. Chaney Student Services Center on the first floor of the Student Development Building, the Veterans Center is a new addition to the campus since the building opened in August 2016.
During his visit, Congressman Lance met with students and College employees who have served in divisions of the U.S. military. Also present were representatives from the Cranford VFW.
"We welcome our elected officials and are grateful for the opportunity to showcase Union students, employees, and the campus itself. I appreciate that the Congressman made time in his busy schedule to see our Veterans Center and speak with our students," stated Union's President Margaret M. McMenamin.
Congressman Lance spoke with each of the veterans and inquired about the military branch in which they served and their experiences. He was particularly interested in the future educational plans of each of the student veterans. The Congressman expressed his support for veterans and veteran issues as well as higher education. The Congressman fielded a number of questions from Union students about his position on such issues as educational benefits for veterans and the status of transgender service members. The students who were present expressed appreciation for the opportunity to interact with and ask questions of an elected officials who represents them in Washington.