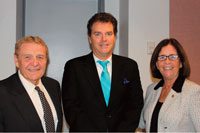 At the September 19, 2017, Joint Meeting of the Union County College Board of Trustees and Board of Governors, Hugh C. Welsh, of Cranford, was sworn in to serve as a new Governor. Union County College Board of Trustees Chair Victor M. Richel and Board of Governors Chair Elizabeth Garcia welcomed Mr. Welsh to the meeting and initiated his swearing in.
Mr. Welsh is the President, General Counsel and Secretary of DSM North America. DSM is a global leader in nutrition, food ingredients, engineering plastics, resins, renewable energy, biomedical materials and fibers. DSM is headquartered in Heerlen, Netherlands, and trades on the Amsterdam Stock Exchange. DSM North America includes 37 sites, 4000 employees and $3 billion in sales. The U.S. represents DSM's largest country by sales and is home to more than 30% of DSM shareholders. In Mr. Welsh's current positions, he provides leadership to DSM's legal, communications, and government affairs departments.
Prior to joining DSM North America, Mr. Welsh served as the Associate General Counsel for American Standard Companies. He was responsible for mergers and acquisitions, labor and employment, and litigation.
Mr. Welsh's excellence in leadership is evident through the many awards and honors he's received. In 2016, he was awarded the NJ Law Department of the Year Award. Mr. Welsh has also received the National Diversity Council Multicultural Leadership Award, US Chamber of Commerce Foundation Global Citizen Award DSM, NJ General Counsel of the Year Award, and the UN Leader of Change Award.
"Mr. Welsh is an advocate for community colleges and we welcome him to the Board. He supports our Foundation and I look forward to working with him as we continue to push forward our mission of 'transforming our community, one student at a time,'" stated Union's President Margaret M. McMenamin.
Mr. Welsh holds a Juris Doctor from Seton Hall Law School and a bachelor's degree in economics from the University of Massachusetts Boston.
Union County College is a public, comprehensive community college providing quality, affordable, accessible educational programs that serve the greater Union County region. It is the first of New Jersey's 19 Associate Degree colleges, serving both career-minded and transfer-oriented students since 1933. The College enrolls almost 30,000 credit, non-credit, and continuing education students and is accredited by the Middle States Commission on Higher Education. Many programs lead to the Associate in Arts, Science, and Applied Science degrees. For more information about Union County College, go to www.ucc.edu.
Caption: Union County College Board of Trustees Chair Victor M. Richel, Mr. Welsh, and Union County College President Margaret M. McMenamin.