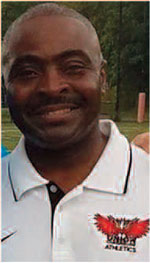 Union County College's Men's Soccer Head Coach Alex Louis has once again achieved excellence with his team. In his 21st season at Union, Louis recorded his 300th career win with a 7-1 victory over Cumberland County College. The National Junior College Athletic Association announced Louis' major coaching milestone that occurred on Sat., Sept. 16.
The Men's Soccer team is an NJCAA Division III program and is currently on a five-match win streak and boasts a 5-1-1 record. During his tenure, Louis has reached two NJCAA national championship games that includes the 2009 national title and a NJCAA Coach of the Year honor. Louis has coached 22 NJCAA All-Americans during his time at Union.
For more information about the Athletic teams at Union County College, please visit www.unionowls.com.