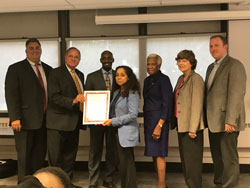 As part of Union County College's Hispanic Heritage Month celebration, Julissa Reynoso, the former U.S. Ambassador to Uruguay, spoke to an audience of students, faculty, and staff on Wed., Sept. 27, 2017, at the College's Cranford campus. Her presentation was entitled, "Challenges for a New Leadership." Ambassador Reynoso's visit to campus was sponsored by the Union County Board of Chosen Freeholders through the Office of Cultural and Heritage Affairs.
Early attendees were welcomed with live classical guitar music. The College's Vice President for Student Development, Dr. Demond T. Hargrove, welcomed those in attendance and introduced Union County Freeholder Angel Estrada. Freeholder Estrada was joined by Freeholders Christopher Hudak, Bette Jane Kowalski, Alexander Mirabella, and Vernell Wright in presenting Ambassador Reynoso with a resolution in recognition of her participation in this Hispanic Heritage Month event.
Ambassador Reynoso has extensive policy and legal experience, both as a lawyer in private practice, and as a senior diplomat for the U.S. government. In addition to her Ambassador position, she also served as the Deputy Assistant Secretary of State for Central American, Caribbean, and Cuban Affairs in the U.S. Department of State. Prior to serving in her government roles, Ambassador Reynoso practiced at a major international law firm where she specialized in antitrust law, international commercial arbitration, and international investment arbitration.
Ambassador Reynoso encouraged Union students to consider a career in public service, specifically in international government service. She emphasized the importance of education and language skills noting that students who speak another language at home should cultivate those skills. She reminded students to work hard but to not think that opportunities, like working for the State Department, are outside of their reach.
"We are grateful to our Freeholders and Union County's Office of Cultural and Heritage Affairs for bringing Ambassador Reynoso to campus to meet our students and talk with them about her work as a successful lawyer and government diplomat," stated Union's President Margaret M. McMenamin.
Ambassador Reynoso holds a J.D. from Columbia University School of Law and a master's in philosophy from the University of Cambridge. She began her educational career at Harvard University where she earned her bachelor's degree. She is fluent in English, Spanish, and Portuguese.
Pictured from left are Union County Freeholder Al Mirabella, Freeholder Angel Estrada, Union County College Vice President for Student Development Dr. Demond Hargrove, Ambassador Reynoso, Freeholder Vernell Wright, Freeholder Bette Jane Kowalski, and Freeholder Christopher Hudak.