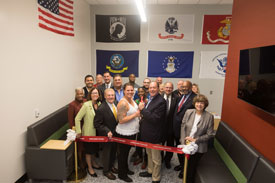 Union County College proudly celebrated its student veterans with a ribbon cutting ceremony to dedicate the Veterans Center on Oct. 9, 2017, located in the Helen E. Chaney Student Services Center at the Cranford campus. Union County College President Margaret M. McMenamin was joined by Union County Board of Trustees Chair Victor M. Richel to welcome attendees. Veteran and Union County College Board of Trustees Vice Chair Frank A. Bolden, Esq. shared a story from his time in the service. Union County Freeholder Chairman Bruce H. Bergen spoke about the County's UC HERO initiative and thanked the College for providing an excellent educational opportunity to veterans. Former US Marine and Union student Zabrena Grisi expressed her gratitude for the Center as place where she could find the comradery she experienced in the military.
Union County Freeholder Vice Chairman Sergio Granados, Freeholder Vernell Wright, Freeholder Al Mirabella, Freeholder Angel Estrada, and Freeholder Bette Jane Kowalski joined the celebration. Councilman from Kenilworth Peter Corvelli was also in attendance.
"The Veterans Center embodies our mission to transform our community, one student at a time. Student veterans face unique challenges as they readjust to civilian life, and we are proud to have this space available to help ease the transition. It is an honor to have veterans further their education at Union, and the Veterans Center is a significant way in which we can support them," stated President McMenamin.
The College provides many services for student veterans. Union is approved to certify eligible veterans to use the education benefit provided by the GI Bill. During the certification process, veterans meet with an academic advisor to determine their major and to establish a plan for completing an Associate's degree or Certificate. The College also offers referrals to off-campus organizations for veteran-related services. A special feature of the Center is the student lounge. The lounge is a dedicated space for veterans to have a place where they can study, do homework, have a meal, and socialize.
For more information about Union County College, go to www.ucc.edu.
###
From left, in the front row are Union County Freeholder Vernell Wright, Union County College President Margaret M. McMenamin, Union County College Board of Trustees Chair Victor M. Richel, Union County College student Zabrena Grisi, Union County Freeholder Chairman Bruce H. Bergen, and Union County Freeholder Bette Jane Kowalski.