CRANFORD – On Nov. 27, 2017, Union County College students met with PSEG Foundation Program Officer Maria Spina and PSEG Lead Senior Consultant/Principal Wireless Solutions Architect Jeffrey Katz to thank them for their $5000 donation towards their PSEG Foundation Scholarship and supporting the Union County College Foundation.
"PSEG is proud to support the development and enhancement of educational programs that inspire students to increase their understanding and interest in science, technology, engineering, and math," said Maria Spina PSEG Foundation Program Officer. "We are happy to continue to support Union County College as they continue to provide resources for students who are increasingly broadening their knowledge."
Three years ago, the PSEG Foundation established their scholarship to support Hispanic students majoring in STEM programs. A total of $15,000 has been donated for the scholarship. In addition, PSEG has been a generous sponsor of the Foundation's annual Golf Tournament and of the "Close the Gap" Campaign, an initiative that was established to help shrink the ever growing achievement gap that exists for African American students. The financial assistance provided through the campaign has helped African American students complete their degree on time.
"We are thankful for major corporations who invest in our students and help provide them with the access to an excellent education. Thank you for supporting Union students. With your assistance, the College can continue to 'transform our community…one student at a time,'" stated Union's President Margaret M. McMenamin.
For more information on how you can support the Union County College Foundation, please call (908) 709-7505 or email foundation@ucc.edu.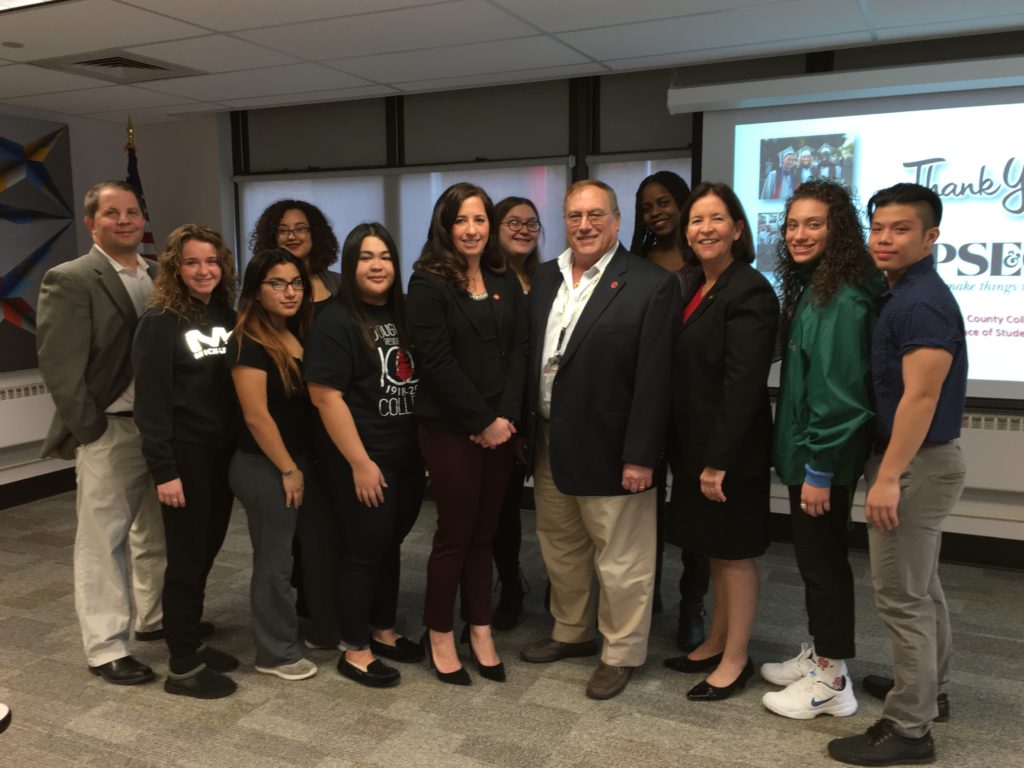 At left, Union County College Foundation Executive Director Doug Rouse, PSEG's Maria Spina and Jeffrey Katz (center), Union's President Margaret M. McMenamin (third from right) surrounded by Union students.