CRANFORD – During the winter break, Union County College students in the physical therapist assistant program went to the Dominican Republic through the nonprofit organization Physical Therapy Beyond Boundaries (PTBB), and in conjunction with Cambiando Vidas, a very small nonprofit that operates on the Habitat for Humanity model, built a home for a poor farmer in a rural part of the country. While there, the Union students also provided physical therapy to patients on site in the village, made home visits with local physical therapists and worked at the rehabilitation center in San Juan de Maguana. This opportunity was possible thanks to the work of Dr. Beth Rothman, physical therapist, founder of PTBB, and Senior Professor in the Institute for Intensive English at Union County College.
This is the first year that Union students participated in the trip. In the past, only Rutgers doctoral students accompanied Dr. Rothman on the trip. The mission of PTBB is to help clinicians in other countries gain better treatment skills through working and training with American clinicians. In exchange, American clinicians develop cultural competence and learn how to treat patients with minimal tools.
Dr. Rothman plans to have more Union students participate in the work of PTBB next year including two high-level ESL students to act as translators with the physical therapist assistant students. Dr. Rothman's goal is to involve ESL students who want careers in physical therapy. This opportunity would help them to determine if working in physical therapy is a career they want to pursue, while simultaneously conducting service work and helping others.
"The process of learning and working in a real world environment is an opportunity that all college students should be able to experience. Union students had the chance to interact with both foreign therapists and students training at other institutions. We are proud of and grateful to Dr. Rothman for her commitment to our students and for providing a quality learning experience," stated Union President Margaret M. McMenamin.
Union County College is a public comprehensive community college providing quality, affordable, accessible educational programs that serve the greater Union County region. It is the first of New Jersey's 19 Associate Degree colleges, serving both career-minded and transfer-oriented students since 1933. The college enrolls almost 20,000 credit, non-credit and continuing education students and is accredited by the Middle States Commission on Higher Education.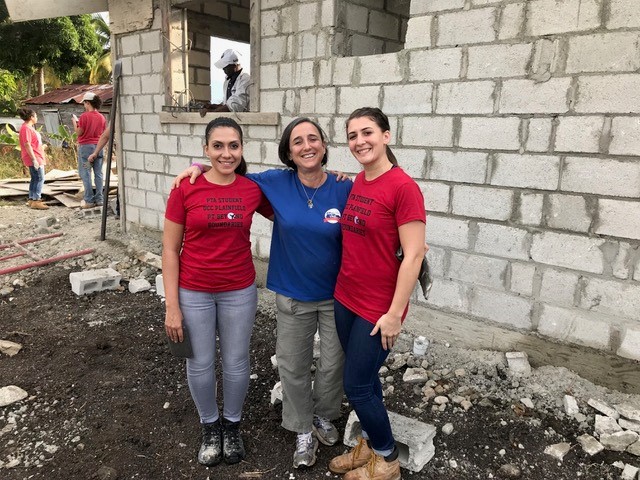 Union County College student Christina Rodriquez, SPTA; Professor Beth Rothman, PT, DPT, M.ED; and Union County College student Alyssa Ferraro, SPTA.