ELIZABETH – U.S. Senator Robert Menendez visited Union County College's Elizabeth campus on April 13 to speak about issues surrounding college affordability. He has been an advocate for affordable higher education in New Jersey for many years and recently co-sponsored the America's College Promise Act which would offer free tuition at community colleges throughout the state.
Senator Menendez was greeted by more than 100 Union students and was welcomed to campus by Union's President Dr. Margaret M. McMenamin. Senator Menendez addressed recent changes to legislation which will allow for more financial assistance towards colleges and universities. "America is facing a $1.3 trillion student debt crisis.  We have to alleviate this burden if we want to empower young people to unleash innovation and make the 21st century another American century.  That's why I believe it's time we make free community college a reality in this country," said Sen. Menendez, who relied on Pell Grants to help pay for his college and has since been a staunch champion for college affordability.
"The truth is we can't afford NOT to invest in American students and workers.  This is about America's ability to compete in the 21st century.  This is about America's ability to grow the middle class.  And free community college is a smart, sustainable place to start," stated Sen. Menendez.
Recent legislation increased the maximum Pell grant to $6095 per person, which is a total of $175, the largest increase it has seen in eight years. In addition, the Federal Work Study programs received an increase of $140 million bringing funding to $1.13 billion despite the government's threat to cut the program in half.
Union students Kenu Ogbevire, of Roselle Park, and Gissella Gamboa, of Linden, spoke about the importance of Pell and Federal Work Study and what those programs have meant to them personally.
Senator Menendez's America's College Promise Act creates a federal-state partnership in the states that agree to waive the first two years of tuition at community colleges, providing $3 of federal funding for each $1 the state spends to waive tuition fees. The Act also creates a new grant program that helps to cover two years of tuition costs at four-year minority service institutions (MSI). In addition to streamlining state reporting requirements as covered in the Every Student Succeeds Act (ESSA), the bill also changes the requirement that each student must be a first time student. This will allow students who needed to pause completing their degree to return to college and be benefit eligible. Finally, the bill expands the MSI program to include students who may not be eligible for financial aid, including Dreamers.
"Senator Menendez has been committed to the importance of higher education. Our students depend on Pell and Federal Work Study. We are grateful to have a friend in Washington fighting for our students," stated Dr. McMenamin.
Union County College is a public comprehensive community college providing quality, affordable, accessible educational programs that serve the greater Union County region. It is the first of New Jersey's 19 Associate Degree colleges, serving both career-minded and transfer-oriented students since 1933. The college enrolls almost 20,000 credit, non-credit and continuing education students and is accredited by the Middle States Commission on Higher Education. For more information, visit www.ucc.edu.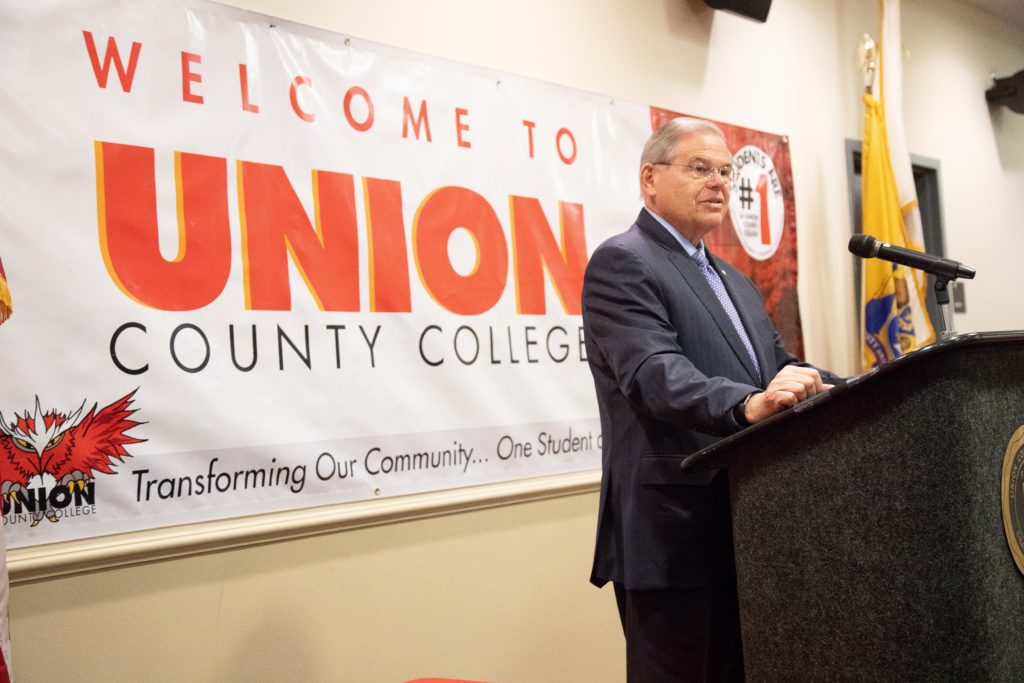 Senator Menendez addressing the audience.