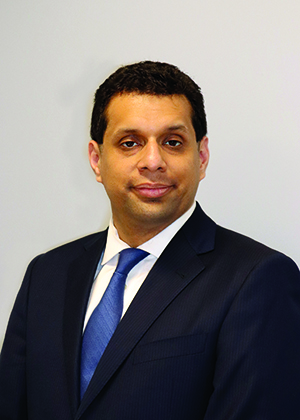 CRANFORD – Dr. Carlos Barrezueta is the new Dean of Social Sciences/Business/History for Union County College. Dr. Barrezueta joined Union in the spring of 2013, originally serving as the College's Ombudsman and Affirmative Action Officer. In the summer of 2015, he was named the Assistant Dean for Social Sciences/Business/History Division.
As the Dean of the Social Sciences/Business/History Division, Dr. Barrezueta will be responsible for the supervision and evaluation of the Division's full-time faculty members and staff and will advocate for the issues, initiatives, goals, and needs of the Division. Dr. Barrezueta will support the faculty in the development and design of new programs as well as the enhancement of the Division's existing curriculum. Dr. Barrezueta is the Division's representative and will work with other College divisions to ensure that the needs of Union students are being met in all academic areas. The Social Sciences/Business/History Division includes majors and courses in business, education, history, psychology, sociology, criminal justice, paralegal studies, liberal studies, sport management, and hotel, restaurant and tourism.
Prior to his arrival at Union, Dr. Barrezueta served as the Executive Director of the Center for Latin American and Caribbean Initiatives at Miami Dade College in Miami, Florida. While attending Yale Law School, Dr. Barrezueta served as a Dean's Fellow and coordinated the launch of a new three-year accelerated JD-MBA program at Yale Law School and Yale School of Management.
Dr. Barrezueta earned his Juris Doctor from Yale Law School and is a member of the New York Bar. He has a Bachelor of Arts in political science and history from Columbia University. At Columbia, he was the class valedictorian and he graduated summa cum laude. Dr. Barrezueta speaks fluent Spanish and also has a basic knowledge of French.
"Dr. Barrezueta has been a dedicated member of the administration at Union, and I look forward to working with him in this new role. In this enhanced position, he will provide guidance and assistance to our faculty so they may continue to steer our students towards timely degree completion," stated Union's President Dr. Margaret M. McMenamin.
For more information about the majors offered at Union County College, go to www.ucc.edu.