CRANFORD – With over 150 guests and volunteers in attendance, the Union County College Foundation surpassed their goal and raised nearly $55,000 at their 3rd Annual Close the Gap Campaign cocktail reception. Held on July 11, in the Richel Student Commons at the College's Cranford campus, this campaign was developed by a small group of dedicated community volunteers to support the College's strategic initiative to help shrink the achievement gap that exists for African American students. The campaign provides financial assistance to help these students complete their degree on time.
This year's cocktail reception was held in memory of Assemblyman Jerry Green, who was one of the first significant advocates for the campaign. New Jersey State Senator and Union County Democratic Chairman Nicholas P. Scutari was the lead sponsor and his enthusiastic support contributed to doubling the money raised at the event this year. "Assemblyman Jerry Green not only was my running mate, but he was my good friend. It is my honor to support an initiative that was important to him and helps young people in Union County," stated Senator Scutari. United States Senator Cory Booker and Assemblyman Jamel Holley served as Honorary Chairs. Senator Booker sent a video message in which he thanked supporters of the campaign for their generosity and reminded everyone of how an education can change one's life.
New Jersey Lieutenant Governor Sheila Y. Oliver was also in attendance to support the event and spoke about the impact Assemblyman Green made on her life. Lt. Gov. Oliver stated, "I am proud to support a cause that was so close to Assemblyman Jerry Green's heart. His commitment to this initiative not only inspires me but the whole community to support Union County College's Close the Gap campaign. I am so impressed by the success the College has had in advancing the opportunities for African American students. This success is a true testament to the memory of Assemblyman Jerry Green."
Since the start of the campaign in 2015, over $100,000 has been invested in scholarships, support, and emergency funding to help students who are on course to graduate but who need additional financial assistance. The dedication of the College's staff combined with the generosity of our community has more than tripled graduation rates for African American male students at the College. Thanks to the continued success of the campaign, the Foundation has expanded to support African American women.
If you are interested in donating to the Close the Gap Campaign, or would like to learn more about how you can provide financial assistance for students at Union County College, please call (908) 709-7505, email foundation@ucc.edu or visit the Foundation's website at www.uccfoundation.org.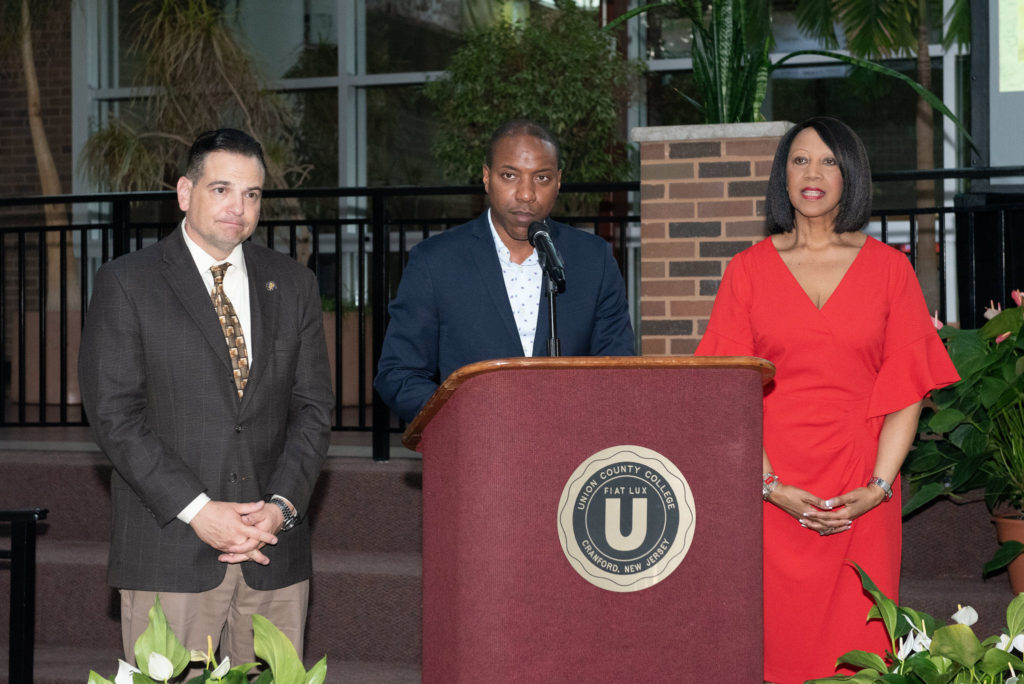 New Jersey State Senator and Union County Democratic Chair Nicholas P. Scutari, Assemblyman Jamel C. Holley, and New Jersey Lieutenant Governor Sheila Y. Oliver.