CRANFORD – Economic Modeling Specialists, Inc. (EMSI), an economic research firm based in Idaho, has released a study on the economic impact of Union County College on the County. The results revealed a very positive impact of the College on the regional economy in large part through the College's ability to enhance graduates' careers with increased job opportunities and higher incomes.
Among the most noteworthy impacts of the College on the Community are the following:
Union County College produced a total economic impact of $399 million in added income in Union County last year.
The College produced increased earnings from our alumni of $319.9 million last year.
Residents of the County who complete an associate degree earn an average of $45,800 per year – which is $11,100 more than a high school graduate in Union County earns.
For every $1 invested by taxpayers, the return on investment (ROI) is $8.40 in additional tax revenue and public sector savings.
"The EMSI study confirmed what we at the College already knew: An investment in Union County College benefits all stakeholders – students, businesses, and taxpayers. Our students, faculty, and staff support local businesses which improves the economic status of the County. With more highly qualified workers in local businesses, taxpayers benefit through increased tax revenues and lower demands for government-supported social services. Our students have access to an affordable, high quality education. That leads to increased lifetime earnings and improved quality of life," said Union County College Board of Trustees Chairman Victor M. Richel.
Union County College is a public comprehensive community college providing quality, affordable, accessible educational programs that serve the greater Union County region. It is the first of New Jersey's 19 Associate Degree colleges, serving both career-minded and transfer-oriented students since 1933. The College enrolls almost 20,000 credit, non-credit, and continuing education students and is accredited by the Middle States Commission on Higher Education. Many programs lead to an Associate in Arts, Associate in Science, or an Associate in Applied Science degree.
EMSI began conducting economic impact studies in 2001 to help colleges communicate their economic contributions and value. The company has completed more than 1700 studies for over 700 college in the United States, the United Kingdom, and Australia.
For more information about Union County College, go to www.ucc.edu.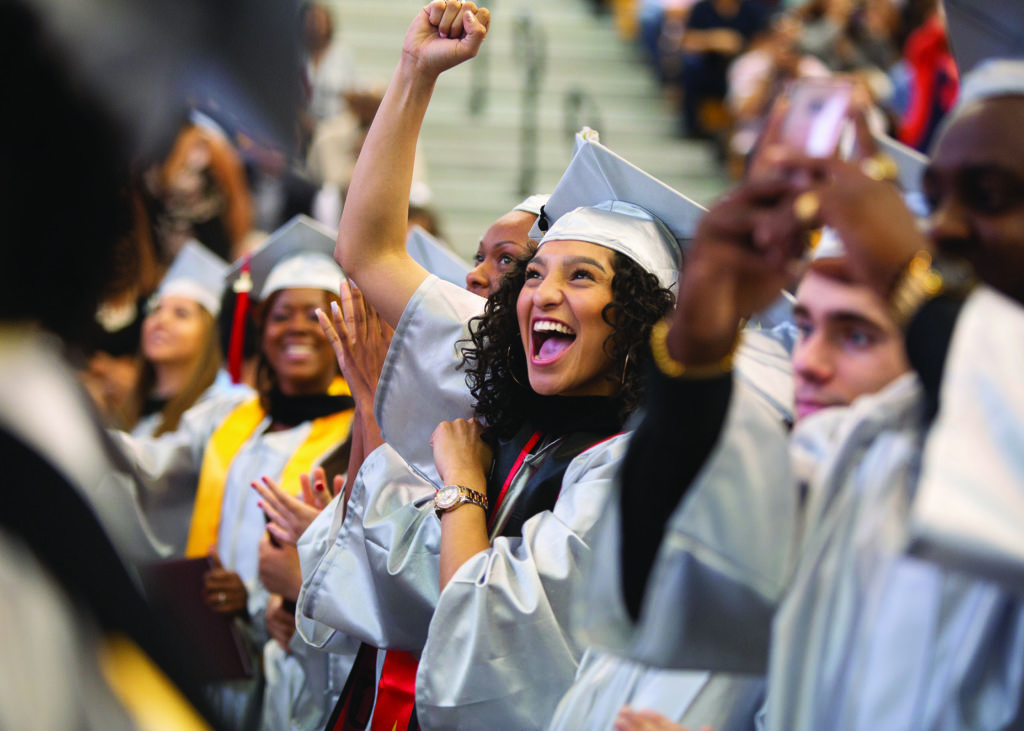 Photo from Union County College Commencement, May 2018: The EMSI study shows that Union alumni significantly contribute to the economic impact of the College on the County.