CRANFORD –Union County College held an Opening Ceremony to kick off Hispanic Heritage Month on Sept. 17 at the College's Cranford campus. The jubilant occasion began with a presentation of flags from Hispanic countries by Union students.
Following the flag procession, Union County College President Dr. Margaret M. McMenamin welcomed the College community to the event. She introduced Union County Freeholder Chairman Sergio Granados, thanking the Chairman for his tireless support of Union's students and the College's mission.
In his message to attendees, Chairman Granados commended the College for the support provided to the growing Hispanic community in Union County and noted that the diversity of the County is reflected at the College. He spoke about the importance of all cultures coming together to continue to build our great nation. "The Freeholder Board is committed to establishing a strong, inclusive community for the residents of Union County. To achieve this goal, we recently established new offices to represent the LBGTQ population and those with special needs," stated Chairman Granados.
A highlight of the celebration was the vocal performance by Union student Elaine Sanchez-Martinez, of Linden, who captivated the crowd when she sang "Creo en mi" by Natalia Jimanez and "Warrior" by Demi Lovato.
The keynote speaker, Mr. Winster D. Cabellos, M.A.S., Coordinator of Administrative and Academic Services for Passaic County Community College, shared his personal experience as an immigrant from the Dominican Republic who came to the U.S. as a non-English speaker. He originally intended to learn English and return home. That was 21 years ago. From his initial enrollment in ESL classes at Passaic, he has spent his career there, starting as a student worker and moving up the ranks to his current position. He delivered a powerful message to Union students stating, "Do not let anyone tell you who you should be or what you should do for your career. Only you can make that decision, but be sure to do what will make you happy."
The afternoon celebration ended with a lively and upbeat musical performance by the group Orquesta Los Nueve Del Sabor.
The opening ceremony was also the kick-off event for Hispanic-Serving Institutions Week. Union County College is one of four community colleges in New Jersey that is designated as a Hispanic-Serving Institution because more than 25% of the student population is Hispanic. For the next month, Union County College will be celebrating Hispanic culture.
For more information about Union County College, go to www.ucc.edu.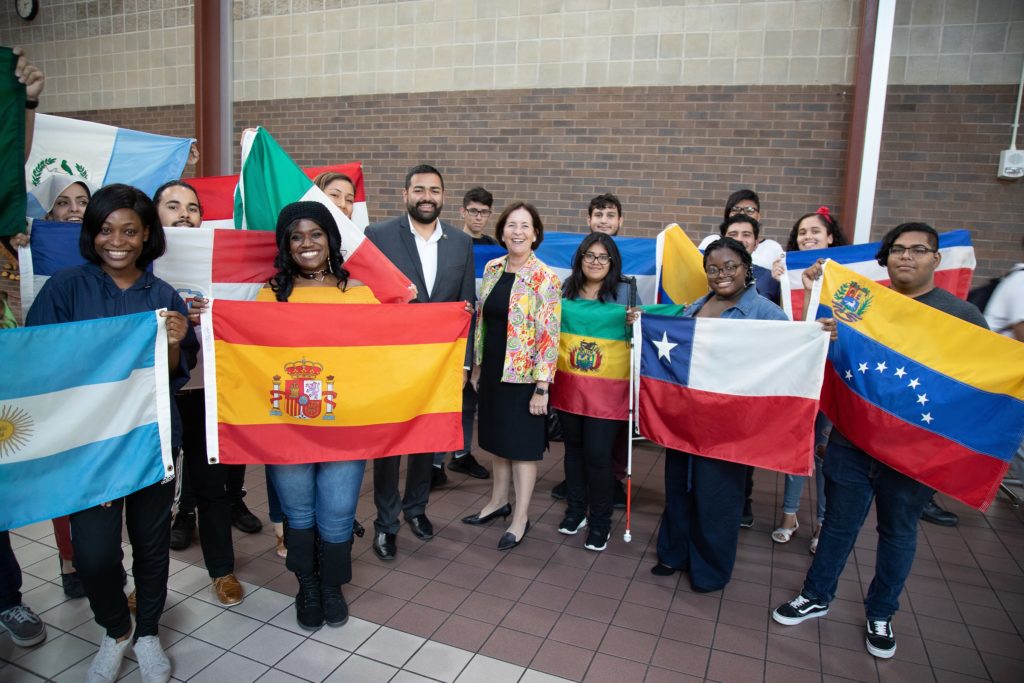 Freeholder Chairman Sergio Granados and Union County College President Dr. Margaret M. McMenamin celebrating with Union students.