PLAINFIELD – Union County College hosted a 25th Anniversary celebration of the dedication of the Plainfield Campus on Sept. 20. Dean of Plainfield Campus and Allied Sciences Dr. Victoria Ukachukwu led the joyous occasion by welcoming the guests, sharing a brief campus history, and explaining how its presence in the City has helped improve the lives of Plainfield residents.
Joining Dr. Ukachukwu were Union's President Dr. Margaret M. McMenamin and Union County College Board of Trustees Chair Victor M. Richel. Dr. McMenamin spoke about the College's mission, "transforming our community, one student at a time," and how offering programs that lead directly to employment has changed lives. She also acknowledged that the College's success is due in part to the partnership with the City of Plainfield and the annual support of the Union County Board of Chosen Freeholders. Mr. Richel spoke about his active involvement with the establishment of the campus, how impressed he is with the campus' growth through the decades, and that in the County, the campus is a hub for training students to work in healthcare.
Other dignitaries in attendance were Assemblywoman Linda Carter, Plainfield Mayor Adrian O. Mapp, Union County Freeholder Chairman Sergio Granados, Freeholders Rebecca Williams and Alexander Mirabella, and Plainfield City Council Members: President, Mr. Charles McRae; Vice President Joylette Mills-Ransome; and Barry N. Good. Assemblywoman Carter presented a proclamation from the state legislature recognizing the anniversary celebration, and Freeholder Chairman Granados, with Freeholders Williams and Mirabella, presented a proclamation on behalf of the entire Freeholder board. Mayor Mapp's office also acknowledged the significance of 25 years in a proclamation from the City.
Alumna Korena Stewart currently serves as Union's Academic Specialist for the Practical Nursing program, and she gave a riveting speech about the personal transformation she experienced as a student in the Practical Nursing program. Thanks to the faculty and staff that she encountered during her studies, and with the encouragement she received from them during difficult times, she persevered, and after Union, went on to complete multiple advanced degrees.
To conclude the festivities, Dr. Ukachukwu was joined by Freeholder Chairman Granados and Mayor Mapp in a celebratory cake cutting ceremony, which was followed by a reception.
For more information about Union County College, go to www.ucc.edu.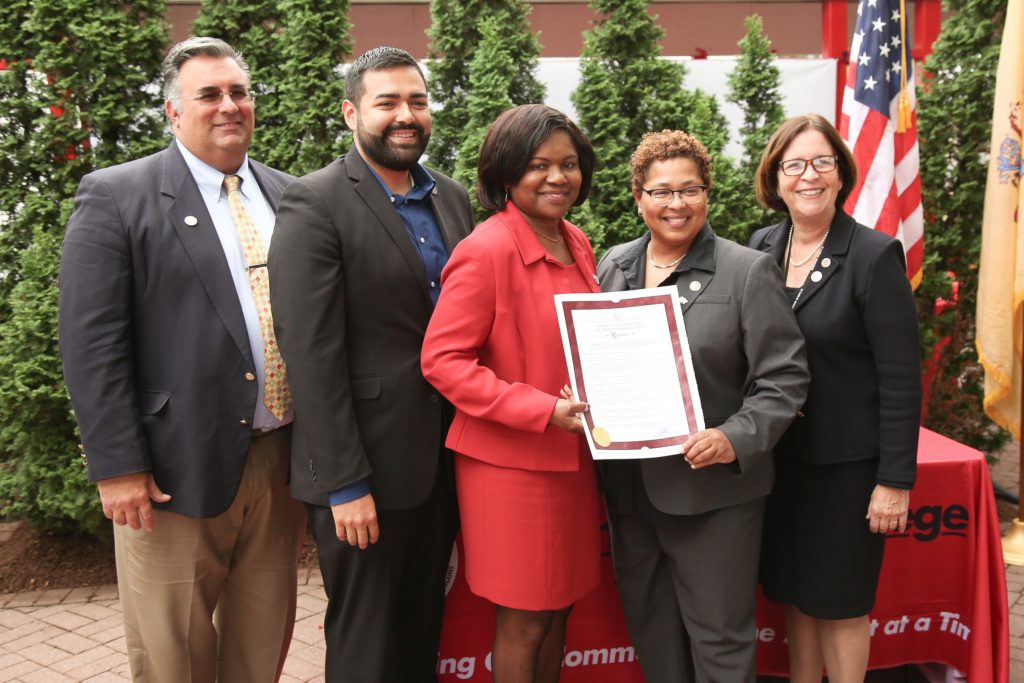 Caption: Union County Freeholders presented a resolution to mark the occasion. From left are Freeholder Al Mirabella, Freeholder Chairman Sergio Granados, Dean of Plainfield Campus and Allied Sciences Dr. Victoria Ukachukwu, Freeholder Rebecca Williams, and Union's President Dr. Margaret M. McMenamin.