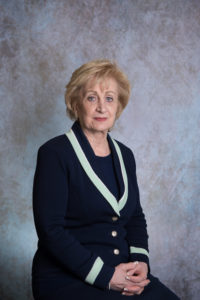 CRANFORD – Union County College's Vice President for Academic Affairs, Dr. Maris Lown, is a recipient of the inaugural Dr. Lawrence A. Nespoli Community College Leadership Award, given by the New Jersey Council of County Colleges (NJCCC). This award is named in honor of the NJCCC's former President to recognize a senior community college leader whose efforts have significantly contributed to New Jersey's community colleges.
Dr. Lown joined Union's administration in 2011. As the chief academic officer, she has spearheaded the revolution of the College's academic programs. "Thanks to Dr. Lown's leadership and foresight, the College now offers cutting-edge industry and business training, including degree programs in Supply Chain Management, Cybersecurity, and Cyber Forensics," stated Union County College Board of Trustees Chairman Victor M. Richel. "Dr. Lown understands how essential it is to prepare Union students to continue their education or to enter the workforce with a valuable credential."
At Union, the focus is on improving student success outcomes. Under Dr. Lown's stewardship, the Academic Division is an integral component of ensuring that students succeed thanks to an invested and committed faculty. Through many college-wide initiatives, the first-time, full-time on time graduation rate has more than tripled since 2013.
Outside of Union, Dr. Lown currently serves on the Meridian Home Care Board and the Meridian Professional Care Committee. As a member of the NJEdge Board, she participates in initiatives that support the use of technology in higher education. Dr. Lown has presented at conferences for the Middles States Commission on Higher Education (MSCHE) and the American Association of Community Colleges. Dr. Lown is also a peer evaluator for MSCHE. Her extensive experience in accreditation, assessment, curriculum development and program development, provides direction, guidance and vision for faculty in these areas.
Dr. Lown previously served on the Meridian Hospital Board of Trustees, as President of the New Jersey State Board of Nursing, as a Commissioner and site visitor for the National League for Nursing Accreditation Commission, and as Secretary to the NJ State Nurses Association.
Dr. Lown earned her Doctorate in Educational Leadership from Rowan University, her master's degree in nursing from Boston University, and her bachelor's degree in nursing from Boston College.