CRANFORD – Union County College and the County's John H. Stamler Police Academy signed a Memorandum of Understanding (MOU) to award college credits to graduates of the Academy. Union County College's President Dr. Margaret M. McMenamin and Union's Vice President for Academic Affairs Dr. Maris Lown were joined by Union County Freeholder Chairman Sergio Granados, Union County Acting Prosecutor Michael A. Monahan, and County Manager Edward T. Oatman for the signing of this MOU on Dec. 17 at the Stamler Police Academy in Scotch Plains, New Jersey.
With the signing ceremony of this agreement, Academy students who have successfully completed their New Jersey Police Training Commission Basic Recruit Course may be awarded credits toward an associate degree at Union. Graduates of the Academy will be granted advanced standing into an associate degree program after admission and matriculation requirements are met. The College will award up to 17 credits to an Academy graduate.
Chairman Granados shared his support for the agreement stating, "I'm excited by this collaboration between two great County entities. Union County College and the Police Academy are both excellent institutions who are second to none in the education and training they provide. We are stronger when we work together and find ways, such as this, to partner for mutual benefit."
Academy Director Eric G. Mason added, "Formal academic education has an important role in the development of professional law enforcement officers. The collaboration between Union County College and the John H. Stamler Police Academy will assist officers in preparing themselves for their complex and challenging careers in law enforcement."
"Union County College is proud to partner with the Police Academy to assist local officers in earning their degrees," stated Dr. McMenamin. "Thanks to the unwavering support of the Union County Board of Chosen Freeholders, led by Chairman Granados, for helping shepherd this agreement to fruition."
The John. H. Stamler Academy operates under the authority of the Union County Prosecutor's Office and in cooperation with the Union County Police Chiefs Association. Annually, the Academy offers two recruit classes and first attendance is given to Union County municipal police departments. The Academy also provides a diverse curriculum of elective in-service training programs for law enforcement officers throughout New Jersey. Topics covered range from "Fitness and Nutrition for Police Officers" to "Unarmed Self-Defense Tactics."
Union County College is a public comprehensive community college providing quality, affordable, accessible educational programs that serve the greater Union County region. The first of New Jersey's 19 Associate degree colleges, Union County College has been serving both career-minded and transfer-oriented students since 1933. The College enrolls almost 20,000 credit, non-credit and continuing education students and is accredited by the Middle States Commission on Higher Education. Many programs lead to the Associate in Arts, Science, and Applied Science degrees.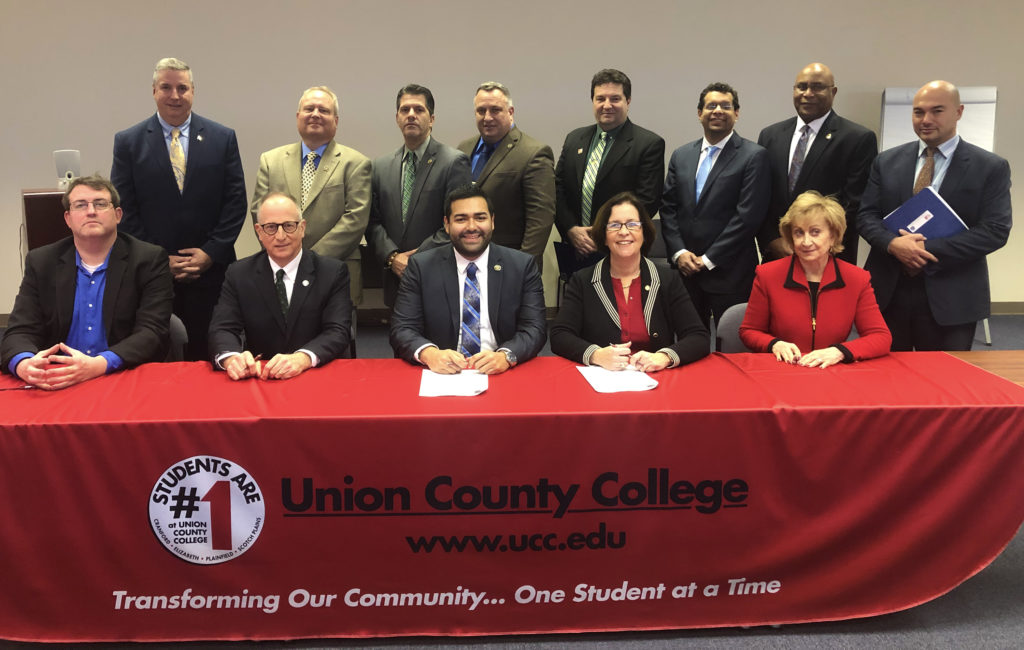 Seated at the table for the signing are County Manager Oatman, Acting Prosecutor Monahan, Freeholder Chairman Granados, Dr. McMenamin, and Dr. Lown.