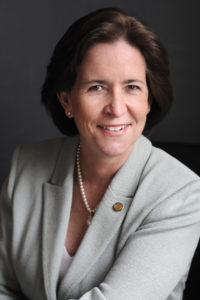 CRANFORD – Union County College President Dr. Margaret M. McMenamin was elected to serve as Chair of the Middle States Commission on Higher Education (MSCHE) for a one year term starting in January 2019. Middle States is the regional accrediting agency recognized by the U.S. Department of Education performing peer evaluations of over 525 institutions of higher education. Dr. McMenamin has served as a commissioner with Middle States since 2014.
As Chair, Dr. McMenamin will preside at meetings of the Commission, carry out MSCHE policies and actions, attend committee meetings, and chair the Executive Committee.
Dr. McMenamin is part of the 29-member Commission that oversees accreditation and pre-accreditation activities for higher education institutions in New Jersey, Delaware, the District of Columbia, Maryland, New York, Pennsylvania, Puerto Rico, the Virgin Islands, and other territories. Her experience with Middle States includes having served as Commission Vice Chair, visiting team chair, and site visitor.
"Union County College's Board of Trustees and Board of Governors are thrilled that Dr. McMenamin has been elected Chair of Middle States," stated Union County College Board of Trustees Chair Victor M. Richel. "This is a testament to her tireless advocacy for quality higher education not just in Union County but across the region."
Beyond her role with Middle States, Dr. McMenamin is also a member of other regional and national organizations, such as the American Association of Community Colleges' Presidents' Academy Executive Committee, the International Commission for the Hispanic Association of Colleges and Universities, and the National Junior College Athletic Association Executive Committee. Locally, Dr. McMenamin is involved with many community organizations including the Boards of Trinitas Regional Medical Center, Union County Performing Arts Center, Union County Crime Stoppers, Elizabeth Development Company, the Union County Workforce Development Board, and the NJTV Community Advisory Board.
To learn more about Union County College, go to www.ucc.edu.