CRANFORD – Union County College Associate Professor of Biology and Head Golf Coach William Dunscombe received the Augie Eosso Award on Oct. 4 from the National Junior College Athletic Association (NJCAA). The Augie Eosso Award is the highest honor given to a coach and is awarded to an individual who exemplifies and demonstrates committed service and dedication in Region XIX (New Jersey, Eastern Pennsylvania, and Delaware).
The award is named after Augie Eosso, a longtime Athletic Director and golf coach at Raritan Valley Community College, and an important contributor to Region XIX. For Prof. Dunscombe, to be honored with this award was almost bittersweet because he was Augie Eosso's fellow coach and close friend for more than 40 years.
This is the fifth year that the award has been presented and the first time it has been given to a coach. Previous winners have been other Athletic Directors.
"Union student-athletes and STEM majors have had a dedicated mentor in Prof. Dunscombe for decades. His commitment to intercollegiate athletics is evident by his decision to serve as the Tournament Director for numerous regular season matches, at the Garden State Athletic Conference (GSAC) Championship Tournament, and the Regional Qualifier," stated Union's Dean of College Life Tammy Smith. "He provides the necessary tools and advice to help students navigate through difficult courses and tough matches and is always a part of their support system."
Prof. Dunscombe was chosen as this year's recipient based on his many achievements since his start at Union in 1971. He served as Athletic Director from 1972 to 1976 when he introduced Women's Basketball, Wrestling, Cheerleading, and Men's Soccer as intercollegiate sports. Prof. Dunscombe served as GSAC Secretary from 1975 to 1977. He has been Union's Head Golf Coach since 1975 and has led the team to win two GSAC Championships, one Region XIX Championship, has had over 500 team victories, has coached one NJCAA All-American, and four student-athletes that went on to become professional golfers. Through the years, he has had an individual or a team participate in 18 NJCAA National Tournaments. He is also a member of the College's Athletic Hall of Fame. In 1981, he developed the idea of a College Golf Tournament to raise money for student scholarships, which has been a major source of funding for the past few decades.
For more information about Union County College go to www.ucc.edu and to learn more about the sport programs at Union go to www.unionowls.com.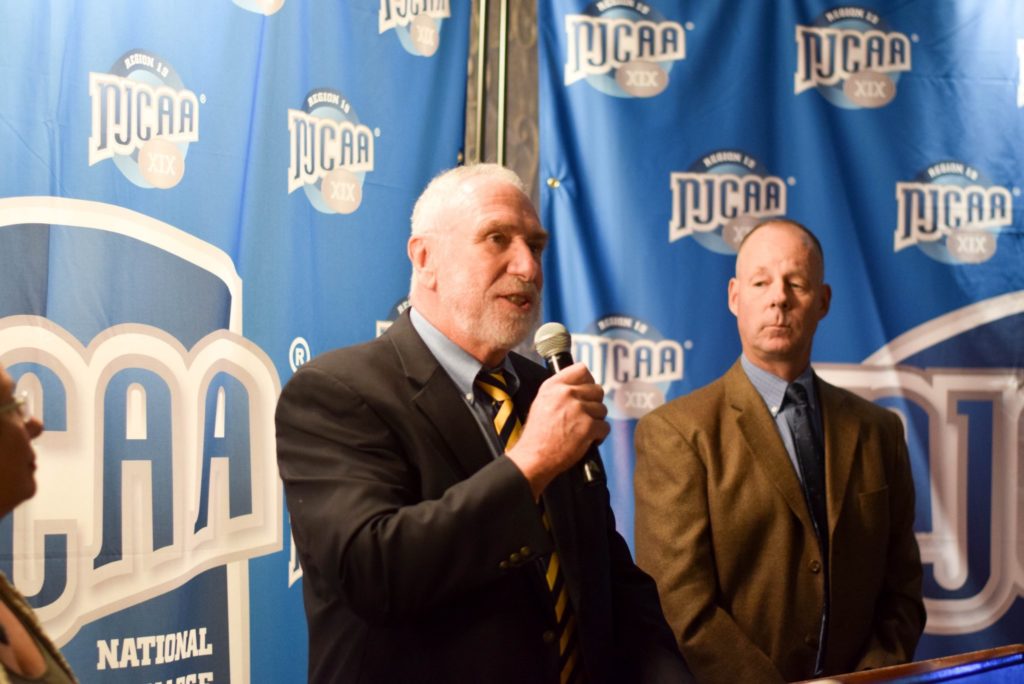 Union's Associate Professor of Biology and Head Golf Coach William Dunscombe thanking the NJCAA for the award.