CRANFORD – In celebration of Women's History Month, Union County College hosted a "Women in Government" panel comprised of six women serving as elected officials Union County at the state, county, and municipal level. Participating on the panel were Union County Freeholder Chair Bette Jane Kowalski, Freeholder Rebecca Williams, Assemblywoman Nancy F. Muñoz, and Mayors Nora Radest of Summit, Shelley Brindle of Westfield, and Angie Devanney of Berkeley Heights.
The lively panel discussion covered topics on what inspired each of the women to run for office, challenges they've faced along the way, the impact of women voters, and advice for the next generation of young women who will run for office.
"The women on today's panel have helped to pave a path for our students to serve their local government in the future," stated Dr. McMenamin. "I thank them for taking the time to participate in today's event and for sharing their valuable advice and perspective with our students, who are the future of Union County."
Following the panel discussion, the event concluded with Union students having the opportunity to ask questions of the panel members.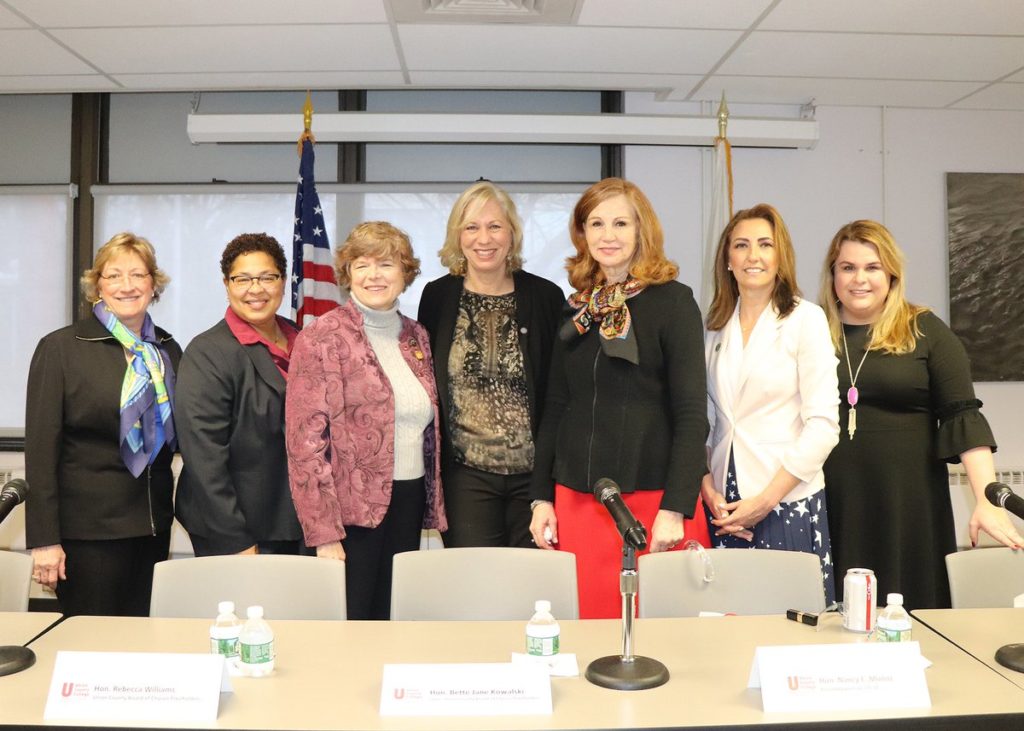 Westfield Mayor Shelley Brindle, Freeholder Rebecca Williams, Freeholder Chair Bette Jane Kowalski, Summit Mayor Nora Radest, Assemblywoman Nancy F. Muñoz, Berkeley Heights Mayor Angie Devanney, and Union's Secretary of the Boards and Director of College Relations Dr. Jaime Segal.