CRANFORD – Union County College and New Jersey Institute of Technology (NJIT) signed an articulation agreement which will allow Union graduates to effortlessly transfer their credits into various bachelor degree programs at NJIT. Union's Vice President for Academic Affairs Dr. Maris Lown was joined by NJIT's Provost and Senior Executive Vice President Dr. Fadi P. Deek for a signing ceremony held in the Innovation Center at Union's Cranford campus on April 30.
The articulation agreement allows Union graduates to enter NJIT with junior-level status. The institutions will work together to develop and maintain accurate, up-to-date course equivalency listings for their academic programs. NJIT offers degrees in information technology, computer science, engineering, mathematics, architecture and design, and management. The agreement took effect in February and allows for the recruitment of students into programs offered at both institutions.
"For many years, Union graduates who majored in engineering programs have transferred NJIT. This agreement will allow our students to plan the completion of their bachelor's degree from the time they begin their classes at the College," stated Dr. Lown. "This is one more way we are meeting our mission of providing an affordable, high quality education to residents of Union County."
"We have had a historic relationship with Union County College and the number of transfer students coming to NJIT from the college continues to grow," said Dr. Deek. "This agreement reaffirms our intent to further expand on the high-quality education pathways for the students and citizens of Union County."
With the agreement, Union graduates must be in good standing at the time they transfer to NJIT. As well, NJIT will accept only the courses in which a student earned a "C" or above and fulfill the requirements of the bachelor degree programs.
About Union County College
Union County College is a public comprehensive community college providing quality, affordable, accessible educational programs that serve the greater Union County region. The first of New Jersey's 19 Associate degree colleges, Union County College has been serving both career-minded and transfer-oriented students since 1933. The College enrolls almost 20,000 credit, non-credit and continuing education students and is accredited by the Middle States Commission on Higher Education. Many programs lead to the Associate in Arts, Science, and Applied Science degrees. For more information, about Union County College visit www.ucc.edu.
About NJIT
One of only 32 polytechnic universities in the United States, New Jersey Institute of Technology (NJIT) prepares students to become leaders in the technology-dependent economy of the 21st century. NJIT's multidisciplinary curriculum and computing-intensive approach to education provide technological proficiency, business acumen and leadership skills. NJIT is rated an "R1" research university by the Carnegie Classification®, which indicates the highest level of research activity. NJIT conducts approximately $162 million in research activity each year and has a $2.8 billion annual economic impact on the State of New Jersey. NJIT is ranked No. 1 nationally by Forbes for the upward economic mobility of its lowest-income students and is among the top 2% of public colleges and universities in return on educational investment, according to PayScale.com. NJIT also is ranked by U.S. News and World Report as one of the top 50 public national universities.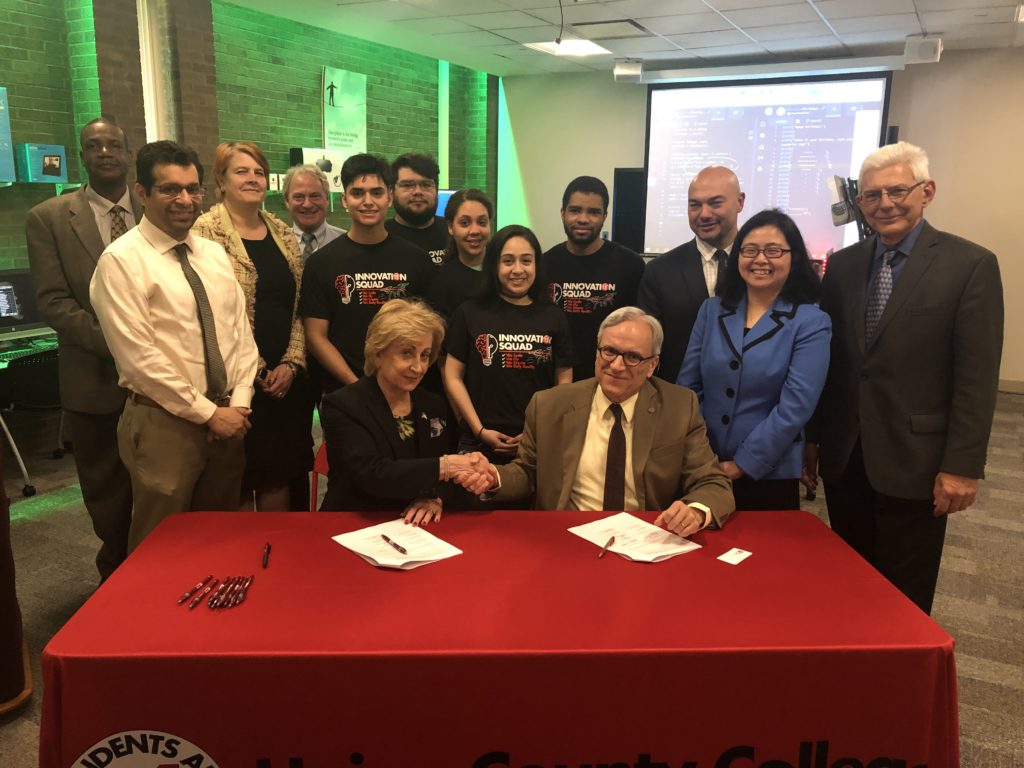 At the table are Union's Vice President for Academic Affairs Dr. Maris Lown and NJIT's Provost and Senior Executive Vice President Dr. Fadi P. Deek. Standing from left are NJIT's Vice Provost for Undergraduate Studies Laurent Simon, Union's Dean of Social Sciences/Business/History Dr. Carlos Barrezueta, Union's Dean of STEM Dr. Liesl Jones, Union's Director of Instructional Design Dr. Jeffrey Gutkin, Union students, Union's Assistant Vice President for Academic Affairs and Dean of the Scotch Plains Campus Dr. Bernard Polnariev, NJIT's Associate Provost for Enrollment Management and Academic Services Wendy Lin-Cook, and NJIT's Senior Vice Provost for Academic Affairs and Student Services Basil Baltzis.