CRANFORD – On July 17, the Union County College Foundation celebrated a historic night by raising nearly $75,000 at their 4th Annual Close the Gap Cocktail Reception. The Close the Gap initiative was established by key community leaders and elected officials to support the College's strategic initiative to accelerate the pace of African American student graduation rates. This year, the Foundation honored Frank A. Bolden, Esq. for his years of service as a member of the Union County College Board of Trustees and his generous support of the Close the Gap campaign.
Assemblyman Jamel Holley, one of the campaign's first supporters and honorary chair for the event, spoke about how the College identified the issue facing the African American students and developed a strategic response that has helped quadruple the African American male graduation rates. He was joined at the event by Close the Gap supporter Assemblywoman Linda Carter. Freeholder Vice Chairman Alexander Mirabella, along with Freeholders Andrea Staten and Angela Garretson, also spoke highly of the successful initiative and presented Mr. Bolden with a resolution outlining his many accomplishments that have made Union County College one of New Jersey's best community colleges.
Since the start of the campaign in 2015, over $200,000 has been invested in scholarships, support, student programming, and emergency funding to help African American students who are on course to graduate but need additional financial assistance. The great success of this program is a direct result of the dedication of the volunteers as well as the College's student development and academic teams that have ensured every student would have access to a high-quality education.
When presenting Mr. Bolden with his award, Union County College Board of Trustees Chair Victor M. Richel stated, "The College is thankful for Mr. Bolden's continued support and service to improve the lives of Union students. He is a dedicated volunteer who has given much of his personal time and energy supporting the Close the Gap campaign to help increase the graduation rates of African American students."
If you are interested in learning more about how you can help accelerate the pace of student success and support the Close the Gap Campaign, or would like to learn more about how you can provide financial assistance for students at Union County College, please call (908) 709-7505, email foundation@ucc.edu or visit the Foundation's website at www.uccfoundation.org.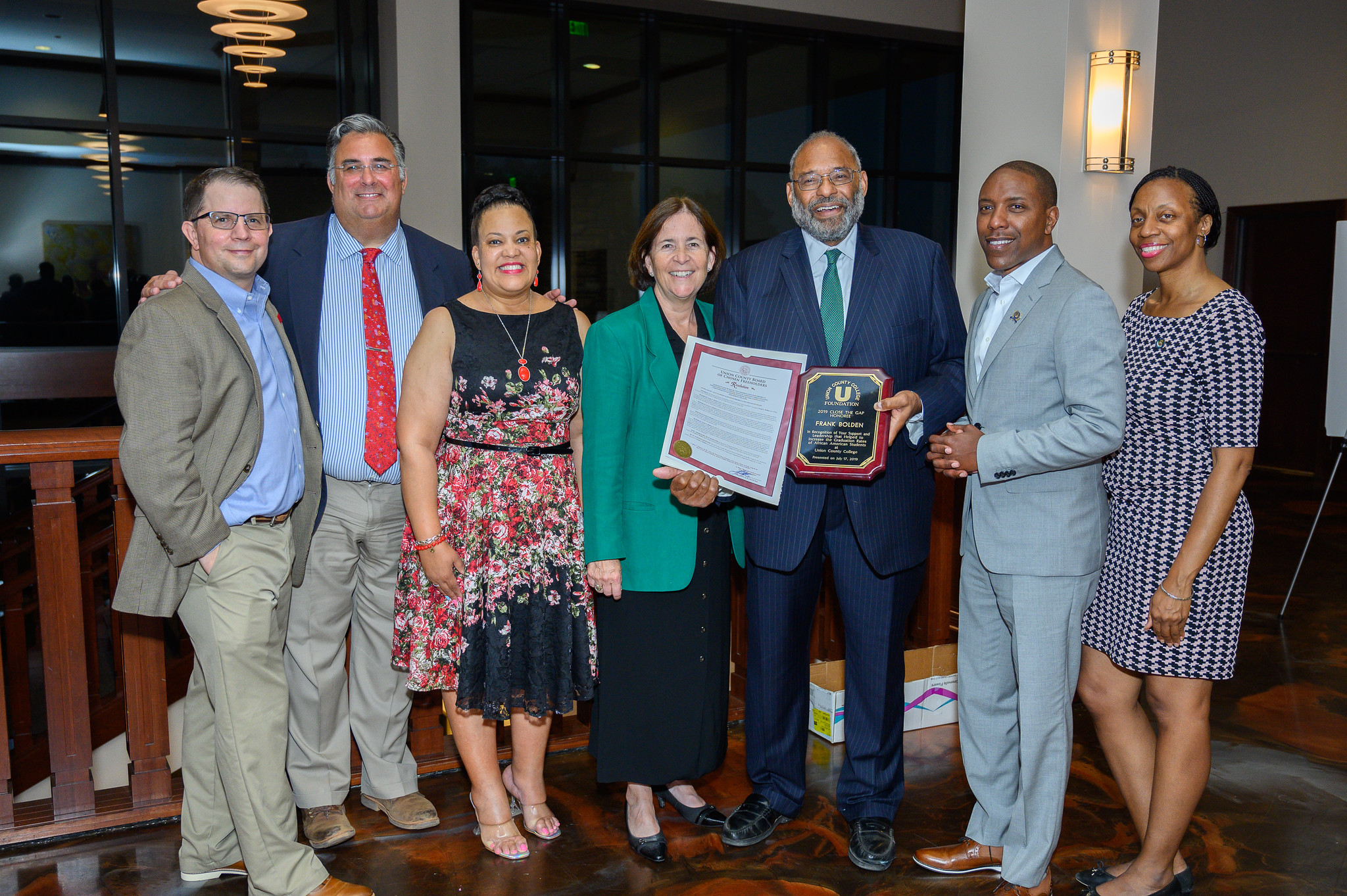 Union County College Foundation Executive Director Doug Rouse, Union County Freeholder Vice Chairman Alexander Mirabella, Freeholder Andrea Staten, Union County College President Dr. Margaret M. McMenamin, Mr. Frank Bolden, Assemblyman Jamel Holley, and Freeholder Angela R. Garretson.