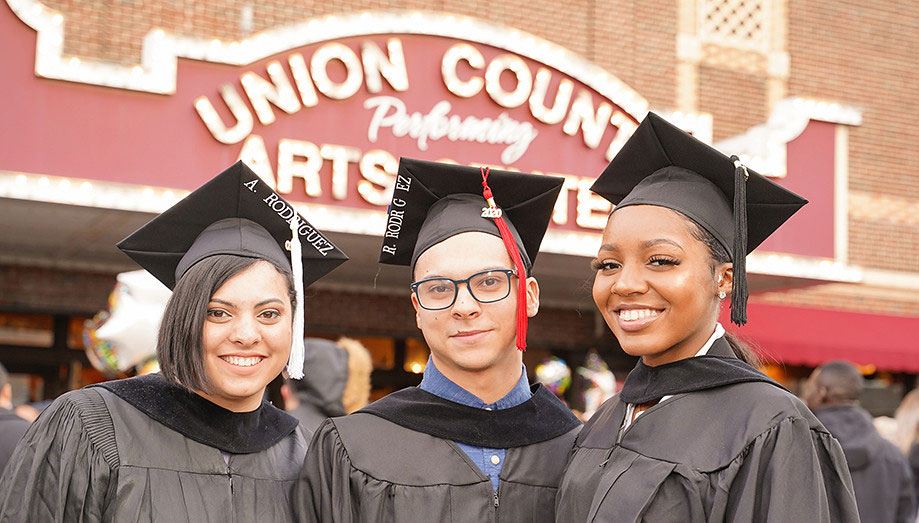 RAHWAY – Union County College celebrated more than 500 graduates during its joyous Winter Commencement Ceremonies held at the Union County Performing Arts Center in Rahway, NJ. Union County College President Dr. Margaret M. McMenamin presided over the ceremonies and welcomed the graduates. Union County College Board of Trustees Chair Victor M. Richel offered greetings on behalf of the College's Boards of Trustees and Governors to the attendees. Highlights of the day were the inspirational student speeches given by Herns Gabriel of Union and Reyna Ramirez of Plainfield. They both encouraged their classmates to persevere in the future and make their mark on the world.
At the 2:30 p.m. ceremony, Associate in Science degrees were conferred. The Associate in Arts, Associate in Applied Science, and Certificates were awarded at the 6 p.m. ceremony. At each ceremony, William Dunscombe, Interim Dean of STEM, presented a graduate with the Abdallah-Thomas Memorial Award. This award was created in 2015 to honor Ibtissam Ahmed Abdallah and Marquest S. Thomas, graduates of the College who died together in a tragic car accident on Nov. 23, 2011, shortly after they were married. To be considered for the award, a graduating student must have a 3.25 GPA or higher, have participated in college life through service in college activities and/or sports, and have completed community service. Luis Umana, of Springfield, who completed his Associate in Arts degree in psychology and Patience Opaola, of Linden, who completed her Associate in Science degree in nursing, were this year's recipients.
"Commencement is the most revered day of the year at Union. We gather to celebrate the success achieved by our newly minted graduates, who exemplify the College's mission of transforming our community, one student at a time," stated Dr. McMenamin.
Among the dignitaries present at the ceremonies were Union County Board of Chosen Freeholder Chairman Alexander Mirabella and Freeholder Sergio Granados. Members of Union County College's Boards donned their regalia and participated in the ceremonies. Union County College Board of Trustees member, Union County College Board of Governors Vice Chair, and Union County College Foundation Chair Lawrence D. Bashe, Union County College Board of Trustees members George A. Castro, II and Daryl Palmieri, and Student Trustee Kaitlyn Veliz were present. Union County College Board of Governors members in attendance were Nancy J. Benz, Rafael J. Betancourt, Esq., Donna M. Herran, Francis Raudelunas, Allan L. Weisberg, and Hugh C. Welsh. Union County College Foundation Board member Suzanne S. Covine was also present.