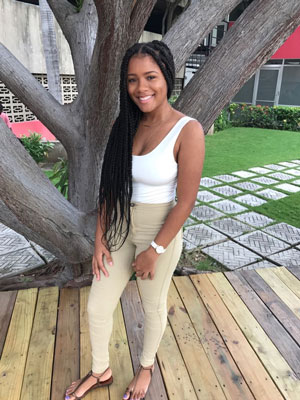 CRANFORD – Union County College student Beianka Tomlinson has been accepted to Princeton University as one of only 13 transfer students admitted for this fall. Beianka currently has a 4.0 GPA and will graduate from Union this month with her Associate Degree in Chemistry.
In addition to maintaining a perfect GPA, Beianka is an American Honors student, serves as president of the Student Government Association, and is a member of Phi Theta Kappa (PTK), the international honor society for two-year colleges. Beianka is also a tutor in the College's Academic Learning Center which provides free peer-to-peer tutoring to students.
This year, Beianka was a semifinalist for the prestigious Jack Kent Cooke Foundation Undergraduate Transfer Scholarship. In 2019, she was selected as a PTK Coca Cola Leaders of Promise Scholar.
At Princeton, Beianka plans to major in chemistry. She hopes to pursue a career in medicine as a cardiovascular surgeon. She is passionate about racial prejudices in healthcare and is interested in studying diseases that disproportionately impact people of color. Beianka moved to the United States only two years ago and is a first generation college student.
"I am thankful to God, my family, my friends, and so many at Union County College for helping me to achieve this goal. The College's chemistry faculty is outstanding, but in particular, Professor Sherry Heidary mentored and advised me. My honors advisor Jen Ross, SGA advisors Dr. Norelli and Jose Paez, and Black Student Union advisor Dr. Wrice all supported me and helped me balance academics, activities, and applications. I cannot thank each of them enough," stated Beianka.