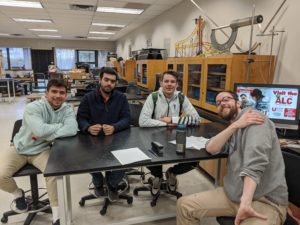 CRANFORD – Union County College is proud to announce that "Team UCC Drillworks," comprised of four engineering students, successfully competed in NASA's Micro-G Next Challenge Artemis Program on September 16. Held via video at the Neutral Buoyancy Lab at the Sonny Carter Training Facility near the Johnson Space Center in Houston, Union's Lunar Coring Device, named "Icarus Talon" was one of two teams who made it through the entire trial. The "Icarus Talon" may now be used in the Artemis mission to drill samples from the moon's surface.
"Team UCC Drillworks" is comprised of four students: Michael Kirkland of Westfield, Bruce Aranda of Elizabeth, Dmytro Govdan of Summit, and Antonio Mena of Cranford. In the first round of the competition, Union competed against teams from universities such as Cornell, Columbia, University of Texas, Ohio State, University of Alabama, University of Nebraska, and Arizona State. Of the original group of 20 teams, only eight were chosen to compete in the final round.
To prepare for the competition on Sept. 16, the team gathered this summer with Associate Professors of Engineering Nick Gilbert and Jennifer Ebert to practice and perfect the drill for the trials. During these sessions, the students consulted with NASA engineers via video for suggestions on how to improve their drill.
"We are so proud of Michael, who wants to work for NASA, and his fellow engineering students Bruce, Dmytro, and Antonio on having built a drill that may be part of the Artemis mission to the moon," stated Union County College President Dr. Margaret M. McMenamin. "And I would be remiss if I did not acknowledge the dedication of Profs. Gilbert and Ebert, who took time out of their busy schedules during our national health crisis and created a safe environment for our students to prepare for the competition."
Union County College Associate Professor of Physics/Engineering Nicholas Gilbert is serving as the Head Coach to the team. Associate Professor of Engineering Jennifer Ebert serves as the research and technical advisor to the team.
For more information about Union County College, go to www.ucc.edu.