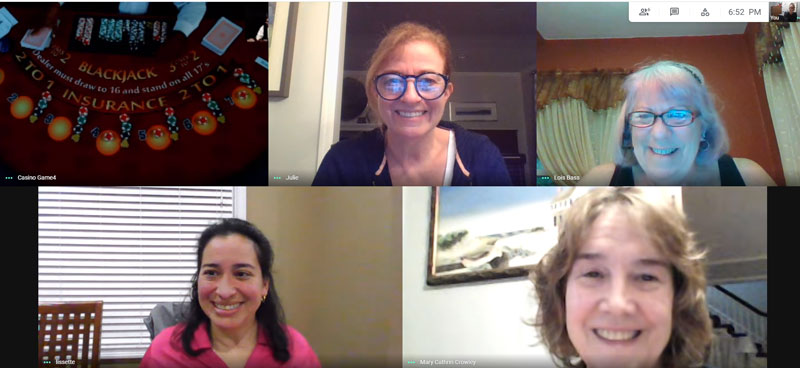 CRANFORD – Over a hundred guests from around New Jersey and beyond joined together in the Owl's Nest Casino at the Union County College Foundation's Virtual Casino Night. This two-night event held on October 29 and 30, raised nearly $150,000 in support of its mission to accelerate the pace of student success. The Virtual Casino Night took the place of the Foundation's traditional Scholarship Gala, which is held annually each Fall. Thanks to the generosity and support of key community and business leaders over the last five years, the Foundation has had a generational impact on the Union County community by funding nearly $6 million in direct scholarship and grant support and further the core mission of the College, to provide students with a high-quality and affordable education.
This year, Infineum USA, LP, was honored as the 2020 Corporate Partner of the Year. Infineum has been a historic and avid supporter of Union students for many years. In addition to funding an endowed scholarship, they provide support for the College's STEM Division and are key sponsors of all the Foundation's signature fundraising programs.
"Infineum continues to have a significant impact on the lives of Union students with their contributions to our student success initiatives. We are grateful for their continued support of the Foundation. Helping ease the financial burden on our students allows them to focus on their academics and graduate," stated Executive Director of the Foundation, Doug Rouse.
Union County College student Antonio Mena, of Cranford, addressed the attendees on each night of the event. He expressed that, "Without your support, I would not be here today. I received multiple scholarships from the Union County College Foundation, thanks to donors like you. The financial relief from those scholarships has made my parents so grateful. I can now continue my education and follow my dreams."
For information about the Foundation's annual events, please contact the Executive Director of the Foundation Doug Rouse at douglas.rouse@ucc.edu or (908) 709-7505.