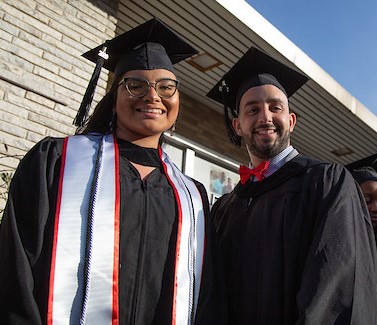 CRANFORD – The Union County College Foundation received a $50,000 donation from Santander Bank to fund The Santander First-Generation Honors Scholarship. This generous donation will provide a $2,000 scholarship to 25 Union Honors students over the next year to help them remain on track towards the completion of their associate degree or certificate. Many will later transfer to a four-year college or university with junior-level status.
To qualify for The Santander First-Generation Honors Scholarship, a student must be a member of Phi Theta Kappa, the two-year honor society for community college students, or enrolled in the American Honors program at Union County College. Each student must be the first in their family to pursue a college degree, and preference will be given to students who are from underrepresented backgrounds.
"Santander believes in the power of education to shape our future generations and drive positive change in our local communities," said Seth Goodall, Executive Director, Corporate Social Responsibility at Santander Bank. "We are proud to support first generation students at Union County College and look forward to seeing their success in the years to come."
"Today, more than ever, support of our Foundation from our corporate partners is vital to ensure our ability to have a transformative impact on our community. We are deeply thankful to Santander Bank for this generous donation that will ensure that a student's economic reality is not a roadblock towards their academic success," stated Union County College Foundation Executive Director Doug Rouse. "The scholarship will cover a significant portion of tuition for the year and will allow the recipients to focus on their studies for their continued success."
To learn more about how you can establish or donate to a scholarship with the Union County College Foundation and change the life of a student, call (908) 709-7505.
Union County College is a public comprehensive community college providing quality, affordable, accessible educational programs to the greater Union County region. It is the first of New Jersey's 18 Associate Degree colleges, serving both career-minded and transfer-oriented students since 1933. The College enrolls almost 20,000 credit, non-credit, and continuing education students and is accredited by the Middle States Commission on Higher Education. Many programs lead to an Associate in Arts, Associate in Science, or an Associate in Applied Science degree.