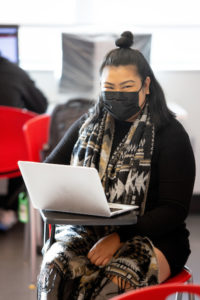 CRANFORD – On February 23, 2021, the Union County College Board of Trustees approved the College's 2021-2022 budget which included no increase to student tuition. This is the second year without a tuition increase. Students who attend Union County College this fall will pay the same rate as last year.
Beyond the overall affordable tuition, there are additional ways to save cost. The College offers flat rate tuition. Full-time students, those who register for 12 or more credits, who live in county pay the same rate, $2,640.50, for 12 to 18 credits. Take additional credits for the same price to be more cost effective.
Eligible students may attend the College tuition free. Those who enroll in at least 6 credits and have an adjusted gross income of $0-$65,000 may be eligible for New Jersey's Community College Opportunity Grant. There is no separate application for this grant. Students who complete the FAFSA or NJ Alternative Financial Aid Application are automatically considered.
Registration for fall is open. Students are encouraged to register now to create their ideal schedule. Payment for fall classes is not due until August 5. The application to Union is free and can be found at www.ucc.edu. Fall classes start on Wednesday, September 1.
The College offers more than 60 programs of study including supply chain, cybersecurity, criminal justice, education, and more. For high achieving students, the American Honors program provides one-on-one academic and transfer advisement. For students interested in athletics, NJCAA sports teams include soccer, baseball, wrestling, lacrosse, and more. The College boasts an active Student Government Association, student clubs and organizations, and a chapter of Phi Theta Kappa, the international honor society for two-year colleges. Graduates of Union County College enjoy easy transfer to four-year colleges or universities.
"With the financial hardships caused by COVID-19, it was essential that we not raise tuition for our students. We are proud to have kept the tuition rate flat over the past two years. Even in the midst of a global health crisis, we will continue to provide a critical service to the residents of Union County, and we do this through the generous support of the Union County Board of County Commissioners led by Chairman Al Mirabella. We know cost is important, and our priority was making adjustments elsewhere, so we did not have to increase tuition," stated Union's President Dr. Margaret M. McMenamin.
For more information and to search for classes and register, please visit www.ucc.edu/fall or call 908-709-7000.