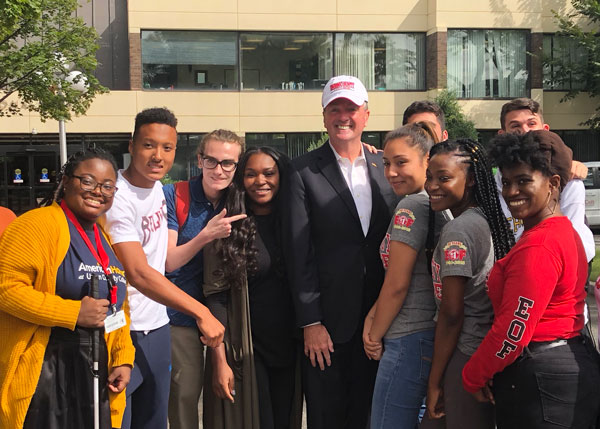 CRANFORD – On February 26, 2021, Governor Phil Murphy signed tuition-free community college into law. New Jersey's Community College Opportunity Grant (CCOG) provides last dollar support for eligible residents to attend community college tuition-free. New Jersey is now one of only 16 states with programs making college free to its residents. Union County residents who are eligible for CCOG may attend Union County College tuition-free.
New and continuing students who enroll in at least 6 credits at Union for fall 2021 and have an adjusted gross income of up to $65,000 will automatically be considered for CCOG if they have filled out their FAFSA or NJ Alternative Financial Aid Application. There is no separate application for this grant.
CCOG is available to both recent high school graduates and working adults. This includes those who have earned college credits but no college degree. At Union, transfer credits from other two-year and four-year institutions are accepted.
Registration for fall 2021 is open. Students are encouraged to register now to create their ideal schedule. The application to Union is free and can be found at www.ucc.edu. Fall classes start on Wednesday, September 1.
The College offers more than 60 programs of study including supply chain, cybersecurity, business, criminal justice, education, and more. Courses this fall are available face to face, online, and remote live. Graduates of Union County College enjoy easy transfer to four-year colleges or universities.
"Free Community College is a game changer in New Jersey. A college degree helps create economic mobility. We are grateful to Governor Murphy for his commitment to community colleges and this investment in our students. With college loan debt being such a burden, Union County College is the most affordable option for residents of Union County to pursue a college degree. And now, thanks to Governor Murphy, that cost may be as low as zero," stated Union's President Dr. Margaret M. McMenamin.
For more information about CCOG at Union, visit www.ucc.edu/tuitionfree. To and to search for classes and register for fall, please visit www.ucc.edu/fall or call 908-709-7000.