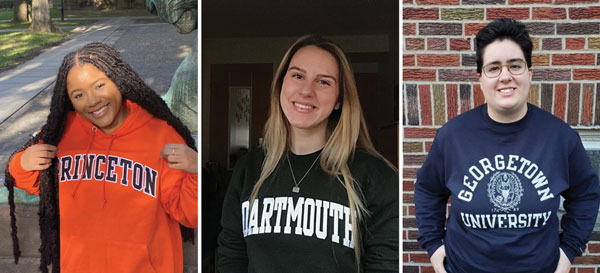 CRANFORD – Union County College is proud to announce that three of the College's spring 2020 graduates are continuing their educations at prestigious colleges and universities. Kamilla Kocsis is attending Dartmouth College, Beianka Tomlinson is attending Princeton University, and Vasiliki "Vas" Vlastaras is attending Georgetown University.
While each of these three graduates had their own journey, there is a common thread: they all wanted to start their college experience at an affordable school that provided a high-quality education and was close to home. Once at Union, to further grow, they sought out engagement and leadership opportunities through their involvement with student clubs, American Honors, and the honor society Phi Theta Kappa (PTK).
Kamilla Kocsis, of Rahway, has continued her studies at Dartmouth College with a major in international relations. At Union, Kamilla was an American Honors student with a 4.0 GPA. She served as president of the College's Model United Nations Club, was a Cranford Senator for the Student Government Association (SGA), and served as Co-VP of Scholarship for Phi Kappa Theta, the international honor society for two-year colleges. In 2020, Kamilla was named a Jack Kent Cooke Foundation Undergraduate Transfer Scholar. This prestigious award includes up to $40,000 per year in financial support to attend a four-year college or university. Kamilla was selected as one of only 50 recipients out of almost 1,500 applicants.
Beianka Tomlinson was accepted as one of only 13 transfer students admitted to Princeton University for the fall 2020 semester. Beianka graduated from Union with a 4.0 GPA and her Associate in Science degree in chemistry. While attending Union, she was an American Honors student, served as SGA President, and was a member of PTK. Beianka also served as a tutor in the College's Academic Learning Center (ALC) which provides free peer-to-peer tutoring to students. At Princeton, Beianka is majoring in chemistry. She hopes to pursue a career in medicine as a cardiovascular surgeon.
Vas Vlastaras, of Union, is now attending Georgetown University. She is majoring in government with a minor in modern Greek. While at Union, Vas was also an American Honors student. She served as SGA Secretary, Vice President for the American Honors Council, Fellowship Committee Leader for PTK, and worked as an ALC tutor. Vas graduated from Union with her Associate in Arts degree in public administration. Vas headed to the right city for her future goals: she hopes to become a lobbyist or campaign staffer.
"Each of these three outstanding students made their mark at Union before moving on to their dream four-year schools. Their hard work and dedication has paid off. As Kamilla, Beianka, and Vas did, we welcome all students to start their higher education journey at Union: earn an affordable and excellent education and then go on to attend the four-year school of your choice. We look forward to seeing what they do next," stated Union President Margaret M. McMenamin.
Registration for the fall 2021 semester is open. To apply to the College with our free application, search for classes, and to learn about financial aid and more, visit www.ucc.edu/fall or call 908-709-7000.