CRANFORD – Union County College is proud to announce that it has celebrated the largest graduating class in its almost 90-year history. During the 2020-21 academic year, the College conferred 1,760 degrees and certificates. It is particularly significant to have reached this incredible milestone during the COVID-19 pandemic.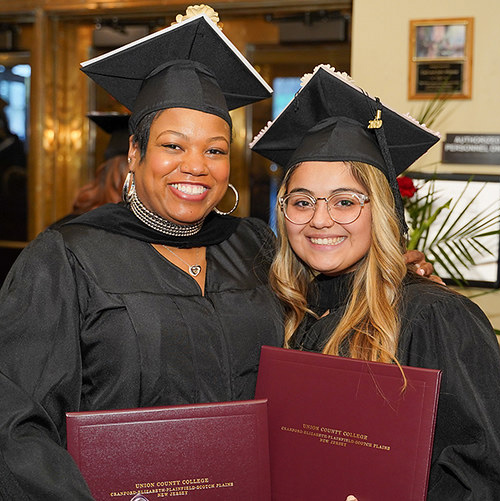 Over the past decade, the College has refocused its efforts on student success and outcomes. This includes modernizing and streamlining academic advising and student support services. In 2016, the Cranford campus unveiled the Helen E. Chaney Center, a brand new one-stop model facility for student services that houses Admissions; Registration; Payment Services; Financial Aid; Disability Services; Educational Opportunity Fund Services; Advising, Career and Transfer Services and Testing. The College employs social workers to address needs that can negatively impact students' academic success, including housing and food insecurity. As a result of these efforts and more, the on-time graduation rate for first-time, full-time students has more than quintupled since 2013.
The College is cognizant of cost and helping ensure that those who seek to improve their lives through education are not deterred by cost. For this current academic year, there was no increase to tuition. This is the second consecutive year without a tuition increase. Additionally, eligible students may attend the College tuition-free. Those who enroll in at least 6 credits and have an adjusted gross income of $0-$65,000 may be eligible for New Jersey's Community College Opportunity Grant. Finally, the College's Foundation awards more than $1 million annually in direct scholarship support to students. The goal is for students who start at the College to be able to reach graduation and not have their education delayed due to financial constraints.
The College offers more than 60 programs of study including communications, criminal justice, cybersecurity, eSports management, nursing, supply chain management, and more. For high achieving students, the American Honors program provides one-on-one academic and transfer advisement. For students interested in athletics, NJCAA sports teams include soccer, wrestling, volleyball, lacrosse, and more. The College boasts an active Student Government Association, student clubs and organizations, and a chapter of Phi Theta Kappa, the international honor society for two-year colleges. Graduates of Union County College enjoy easy transfer to four-year colleges and universities.
"At Union, we value every student and their educational goals. However, we don't just sit idly on the sidelines. Our faculty and staff are active and involved in helping guide our students on their academic journey at Union. We are proud of the number of degrees we conferred this year, during the pandemic, adding to the number of adults with college degrees in Union County. We know that education is the path to economic mobility, and we are here to serve those who want to take that step," stated Union's President Dr. Margaret M. McMenamin.
For more information, please visit www.ucc.edu.