CRANFORD – The Union County College Women's Basketball Team is taking five – five regional championships that is. On February 26, the Women's team won their fifth National Junior College Athletic Association (NJCAA) Region XIX Division II Championship in a row under the leadership of Coach Marbely Montas. Coach Montas has also been named the Region XIX Coach of the Year for the fifth straight year.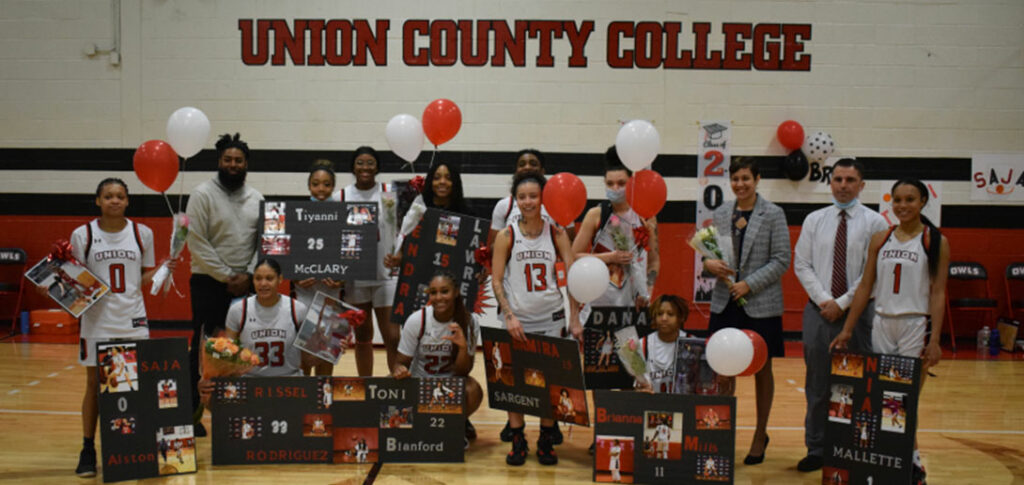 On February 26, the team hosted Harcum College for the NJCAA Region XIX Title. The game was a nail-biter, but Union prevailed, defeating Harcum College with a score of 74-61.
This advanced Union to the District Finals on March 5-6 held at Niagara County Community College where they were the first seed. On March 5, they defeated Jamestown Community College with a score of 64-42. On March 6, the team was narrowly defeated by Niagara County Community College with a score of 65-62, but they still took home the NJCAA Division II District East B Championship. Union has advanced to the NJCAA Division II Championship Tournament, which took place March 15-19 in Port Huron, Michigan.
Leading the team is Head Coach Marbely Montas, who also serves as the College's Assistant Athletic Director. Coach Montas is a proud 2007 alumna of the College. After graduating from Union, she received a full scholarship and continued her basketball career at Monmouth University while she pursued her bachelor's degree. Coach Montas returned to Union in 2011 as the Assistant Coach before assuming the role of Head Coach.
"We are incredibly proud of this hardworking team of student-athletes for what they've achieved this season. Not only do they have a dynamic leader in Coach Montas, but as a graduate of the College herself, she is also a standout role model. It's remarkable that under her leadership, the team has secured the Region XIX Championship and herself the Region XIX Coach of the Year five consecutive times," stated Union President Dr. Margaret M. McMenamin.
At the National Championship Tournament, the team was defeated in the first round, but continued strong in the consolation bracket. They won the first round in a nail biter game at the final buzzer. The play made it as number eight on the ESPN Sports Center top ten moments of the day.
Union offers a full array of NJCAA athletics including soccer, baseball, softball, wrestling, lacrosse, and more. For more information on our athletics program, please visit www.unionowls.com.