English as a Second Language (ESL) Training for the University Boulevard Project Unites a Neighborhood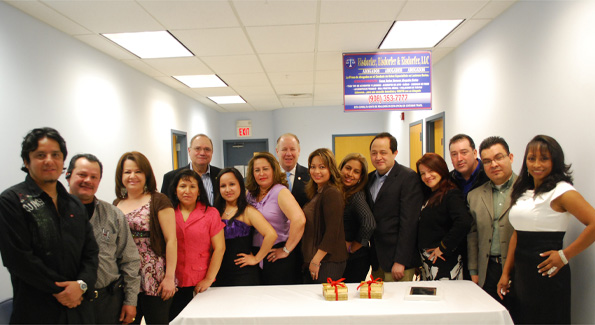 In a shop on Morris Avenue in Elizabeth, in the heart of a community of predominantly Columbian immigrant families and business owners, Mary Arias, President of the Morris Midtown Business Association, witnessed a miscommunication between a Kean University student and a bakery shop owner. She jumped in to help with the needed English/Spanish translation. Mary knew how important the communities at Kean University and Union County College were to the neighborhood that lay on Morris Avenue between the two campuses. And, she knew language was the first barrier that must be eliminated so the business and college populations could benefit from cultural exchange and friendship. This incident inspired the University Boulevard Project. English language training for the resident shop owners was its first important goal.
The Columbian Community Spring Festival in 2011 was intended to raise funds for English language education for business owners and their employees, but while the festival was deemed a great cultural success, it fell short of the necessary funds for Mary's project.
Enter Gordon Haas, President of the Greater Elizabeth Chamber of Commerce. "I know who to call," he said. That call was made to Dr. Lisa Hiscano, Director of the Industry-Business Institute and Continuing Education at Union County College. The Industry-Business Institute (IBI) offers customized training through a grant program from New Jersey Business Industry Association (NJBIA) and the New Jersey Department of Labor and Workforce Development. English as a Second Language training is available through grant programs for qualified companies or consortium (of companies) with ten or more employees to train.
Mary went to work. She gathered store owners and convinced them to commit to paying their employees for the forty (40) hours that would be required to complete this ESL program. According to Mary the most difficult obstacle was in convincing business owners that training could or would be provided at no cost to them. On April 10th, 2012, twelve business owners and employees completed their 40 hours of ESL training and received their certificates with pride. This was the first is a series of ESL training classes. A second began in early May and more are planned.
In attendance at the graduation ceremony on April 10th were Angel Estrada, Union County Freeholder, Mayor J. Christian Bollwage of Elizabeth, Gordon Haas, President, Greater Elizabeth Chamber of Commerce, Bill Reyes, Director of Planning and Community Development for the City of Elizabeth, Mary Arias, President of Morris Midtown Business Association, Lisa Hiscano, Director of IBI at Union County College. Mary Arias said, "This project began because of a hot dog, or what the student thought was a hot dog but was actually a Columbian sausage. I saw the barrier to understanding and knew that for this neighborhood to prosper, the locals needed to improve their English. The Industry-Business Institute partnered with us to take this first step. It really is about economics but the ESL basics lay the foundation for neighborhood growth."  "We support our local communities and businesses through these grant programs," said Dr. Lisa Hiscano. "If businesses prosper, they employ more workers. That's the bottom line. Often, grants are available to pay for training.  At IBI, we assist in writing and administering grants to help businesses prosper."
For information about training for your employees, in basic skills or in high level customized training in management and leadership, please contact the Industry-Business Institute at Union County College at 908-527-7207 or ibi@ucc.edu.
Community Coordinated Child Care of Union County Trains for Change with the Industry-Business Institute
Community Coordinated Child Care of Union County helps working parents meet the challenges of balancing work and family. They do this through programs that enable parents to ensure their children are in safe, high quality and affordable child care programs.
So, when CCCC set out to meet some new challenges for their own organization, they turned to the Industry-Business Institute at Union County College. With IBI, they conducted a needs assessment, identifying where their employees felt they could improve their on the job skills. The goal was to identify the skills that, once improved, would most directly upgrade the level of service they could deliver to their clients in the community. A result of that assessment was a training program that provided classes in several primary areas including: computer skills, business writing, leadership skills for supervisors, managing customer service, and change management.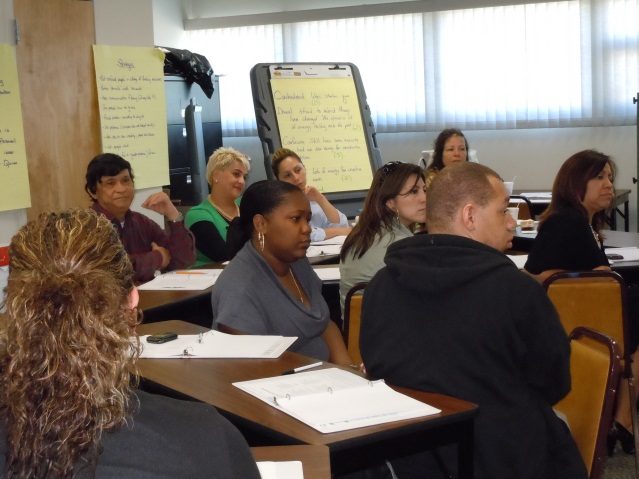 Pictured: Lex Manaois, Brenda Colon, Diana Andrade

, Fatisha Murray, Jessica Oliveras, Ivette Santiago, James Hill and Germania Umanzor
Over the course of two years, CCCC implemented a customized approach to their training. The Industry-Business Institute consulted with CCCC and hired instructors who could tailor the content of each class specifically to the operational requirements of CCCC's staff. According to Patricia Mennuti, Executive Director, "An increase in confidence in our staff's approach to daily tasks was observed immediately following the training. We improved in our ability to communicate with our clients. Our supervisors implemented new and positive methods with their subordinates that helped with productivity and a shared sense of purpose."
Training was scheduled to match the dynamics of CCCC's work day so day to day operations continued to run while the employees took time to learn. "IBI's staff worked with us to make this project as smooth as possible for our organization and so there were no service disruptions to our clients."
For information about customized training programs from the Industry-Business Institute at Union County College, contact Nancy Toomey at 908-527-7207 or Toomey@ucc.edu. Employers may be eligible for funding of training through a grant from the New Jersey Department of Labor and Workforce Development. Call us to discuss the possibilities or to schedule a preliminary needs assessment consultation.
Johnstone Supply Company is Customer Focused and Computer-Savvy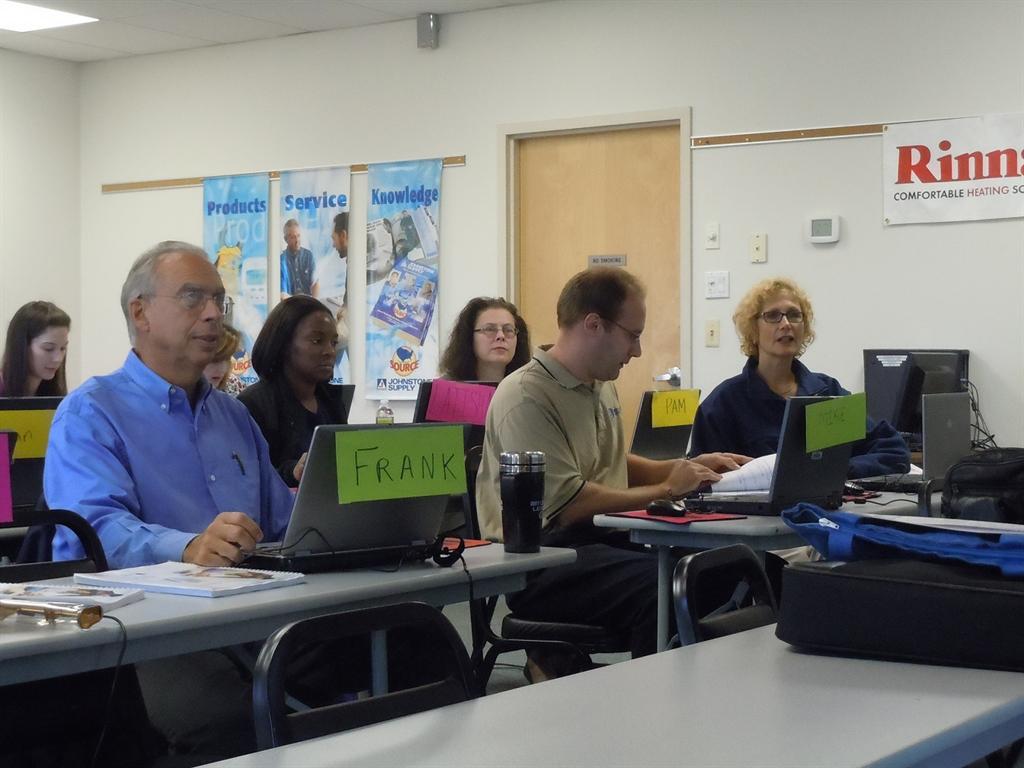 Johnstone employees are left to right: Casey Zimmermann, Frank Taverna, Latisha McCreary, Pamela Greenwald, Mike Jarusiewicz, Diani Johnson  Says Diani Johnson of Johnstone's Human Resources Department, "After we brought in the Industry-Business Institute's Excel training, I went from generating eleven separate reports to a single report for all managers. Every one of our thirteen employees who attended the training came away with something new to help them on the job."
"IBI's mobile computer lab made training in Excel possible for our employees," said Kate Zimmermann. "Their instructor and their training operations manager set up the classroom for us. Our return on the investment of our time and energy was well worth it." It's not easy for Johnstone Supply to send employees out for training so IBI's ability to conduct this one day class on their premises made this project possible.
Johnstone Supply is customer-focused, customer-engaged, and customer-friendly. So when things get busy in their showroom, at the counter, or on the phone, any employee will jump in and work the counter or take phone calls. When it comes to doing the back-office work, Johnstone team members want to work quickly, efficiently and accurately. They know keeping a customer waiting is simply not an option even when reports must be generated, results measured and finances managed. "That's why we brought IBI in to train us. IBI brought the resources of Union County College to us in a business setting."
"A majority of our employees who use Excel in our operation had been self-taught," said Kate Zimmermann. "We brought in the Industry-Business Institute to increase our efficiency with the Excel 2007 program. Now, we know how to use the less obvious features to work much more efficiently with information. We all took something away from the training that will allow us to save time and energy."
Johnstone Supply's corporate culture is focused on training and education. They understand the value of good and thorough technical training because they train their customers in the proper installation, maintenance and troubleshooting of equipment as well as in 'how to sell' strategies. "Our company is training focused, so IBI's program fit in very well with our mindset," said Ms. Zimmermann.
Johnstone Supply in Kenilworth, New Jersey is part of a cooperative that operates over three hundred sixty five stores nationwide. They provide heating, air conditioning, ventilation and refrigeration equipment and parts to contractors who sell, install and maintain products for the end-users. "All of our employees, whether in the office, in the showroom or in our warehouse must be comfortable with computers now. Our warehouse staff uses hand-held devices to fill orders sent to them electronically. If we see a need for our employees to improve their knowledge of even basic computer functions, we offer them opportunities to improve their skills and encourage their participation. IBI's program provided an easy way to offer training. If we improve even basic skills, we help the entire operation."
The Industry-Business Institute of Union County College provides customized training solutions to business and non-profit enterprises in the Union County area. IBI also partners with NJBIA and the NJ Community College Consortium to bring open enrollment classes in basic skills to employees of qualified businesses.
To learn how IBI can meet your need to skill or re-skill workers, supervisors and managers, contact them at 908-527- 7207 or ibi@ucc.edu.
Retail Skills Center helps Revolution Foods with Staffing as the Launch New Operation in Elizabeth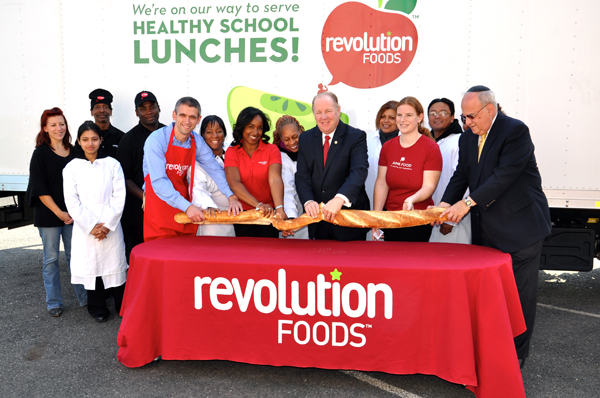 Thanks to the Retail Skills Center, Revolution Foods found qualified candidates for staffing their new facility on Dowd Street in Elizabeth. Of the candidates screened and referred to them by the RSC, Revolution Foods hired 20 of the 26 new members of their staff, all residents of the City of Elizabeth. Thanks to a referral to the RSC by the Elizabeth Development Company, Revolution Foods found the search for job seekers with the proper qualifications and skills easy, efficient and well managed.Revolution Foods serves healthy, nutritious and delicious food to school children at breakfast and lunch. They service charter schools in nearby Newark from their new operation in Elizabeth. Began by Kristin Richmond and Kirsten Tobey, Revolution Foods has operations across the country from California to New York. This new facility is their second on the east coast. Their other is in Washington DC.
The process of locating candidates for jobs began in April. Joe Oliver, Manager of the Retail Skills Center said, "We were introduced in April by the Elizabeth Development Company. From then until now we pre-screened candidates. We sent them 45 who demonstrated the necessary skill set and of that 45, Revolution hired 20 which equates to 77% of the candidates hired."
The Elizabeth Development Company -Urban Enterprise Zone (UEZ) provides assistance to entrepreneurs and small business owners to set up businesses, obtain loans, and identify locations in Elizabeth. Mario Rodriquez, of the EDC called Joe Oliver at the RSC when it came time for staffing.  "Our experience with the RSC in the past has always been good. They are a valuable service to businesses in our city and to the residents in search of jobs."
The RSC is a service provided by Union County College's Industry-Business Institute and received funding from a grant from the City of Elizabeth through the Urban Enterprise Zone.
Wakefern Food Corp. Prepares Workforce Members for First Steps Toward Citizenship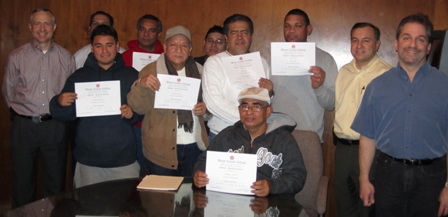 Caption: Wakefern employee graduates from first ESL class, from left: Tom Roy – Director of Transportation, Miguel Canchasto, Jose Andeliz, Guillermo Vanegas, Orlando Fuentes, Jose Lozano, Armando Tamayo (seated), Jose Perez, Ted Abramo – Transportation Manager, Dan Saunders – Instructor
Wakefern Food Corp. the supermarket cooperative whose members own and operate stores under the ShopRite and PriceRite banners, announced the completion of the first phase of an associate training program that will help associates in obtaining United States citizenship through the naturalization process. The company offers associates the opportunity to attend English as a Second Language (ESL) classes, arranged with the Industry-Business Institute at Union County College, as a first step toward becoming U.S. citizens.
In response to associate demand for improved English skills, Wakefern offered training during the work day, on the premises of their warehouse facility in Elizabeth, NJ. The three-month course, as well as the grant process which funded the classes, was managed by Union County College's Industry-Business Institute, the workforce training division of the local community college.
According to Dr. Margaret M. McMenamin, President of Union County College, "Providing workforce training that is customized for our client's needs and obtaining funding to do it is a priority of the Industry-Business Institute. Wakefern approached us with this goal to help employees. We were more than happy to put this program together to meet it.
Twelve Wakefern associates have already completed the program's forty hour curriculum in writing, reading and speaking English. Carmine Caruso, Wakefern Corporate Labor Relations said, "Very often scheduling around commitments to work and family is difficult for our associates. Having training available during the workday made it easier for them to attend and complete the program. We will continue to make this available for those who could not attend the first session, as well as offer the next level in improving language skills."
According to ESL instructor Don Saunders, the training helped improve English skills that are necessary both on and off the job. The attendees, whose job responsibilities require them to locate merchandise in Wakefern's warehouse, found themselves better able to understand labeling on products and bin and pallet location identifiers. Outside of the work environment, their improved English skills will prove helpful in day-to-day activities, such as banking, shopping, and communicating with others.
Caruso complimented the program, saying "The Industry-Business Institute certainly helped us to meet our objective, and exceeded our expectations. All of our participants expressed their appreciation for the course content. 'The instructor,' they said, 'was excellent.' Wakefern strongly believes that our associates are the greatest asset we have. Anything we can do to enhance our employees' lives ultimately helps the Company."
In addition to customized training, the Industry-Business Institute offers standard basic skills training through grants and in partnership with NJBIA at no cost to participating local business establishments. Please visit their website for details on free workforce training available to you and your employees. To find out more about IBI call 908-965-2358 or email us at IBI@ucc.edu.
About Wakefern Food Corp.
From a small, struggling cooperative with eight members – all owners of their own grocery stores – Wakefern Food Corp. has grown into the largest retailer-owned cooperative in the United States. Founded in 1946, the cooperative is comprised of 47 members who today individually own and operate more than 230 supermarkets under the ShopRite banner in New Jersey, New York, Connecticut, Pennsylvania, Maryland and Delaware. In 1996, Wakefern introduced PriceRite stores, extending the company's reach into Rhode Island and Massachusetts. Today, there are 45 PriceRite stores in five states. As the merchandising and distribution arm of both ShopRite and PriceRite, Wakefern, together with its member companies, employ more than 50,000 people; making it one of the largest employers in New Jersey. In addition, Wakefern also distributes products to other supermarkets throughout the northeastern United States and Bermuda. Wakefern was recently named one of the Best Places to Work in NJ by NJBIZ Magazine. For more information, please visit www.Wakefern.com.
Elizabeth Residence Inn by Marriott is Telling Stories about their ESL Class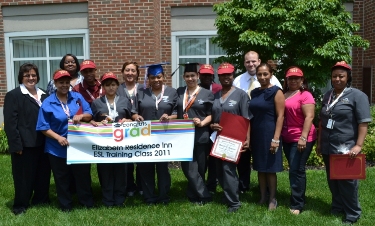 Back Row(Left-to-Right): Angela Mola (Area Director), Cherie Foster( Ass. General Manager), Victor Legitime, Tomasa Quispe Murillo, Gracieuse Domond, and Nicholas Pappagallo (General Manager)
Front Row(Left-to-Right): Ysabel Rodriquez, Hilda Ore, Rafeala Montero, Ana Taveras, Marcelle Despeine, Aydalid Valencia (Teacher), Nora Castrillon, and Marie Laroche
At the Residence Inn by Marriott, management and staff share a passion "to provide service so memorable customers tell stories about it." When your employees show that kind of commitment to their work it's easy to give back to them with enthusiasm. That's why Cherie Foster, Assistant General manager along with approval from Nick Pappagallo, General Manager of the Elizabeth Residence Inn by Marriott answered their employees desire to improve their English speaking skills. "We recognized the benefits better language skills would bring to the hotel's service and to the lives of the employees," said Foster, "so we called in the Industry-Business Institute (IBI) at Union County College. "
Through a workforce grant from the NJ Department of Labor, the IBI delivered a forty hour English as a Second Language (ESL) class over a ten week period ending in June. At the graduation celebration on June 16th, amid two six foot subs, a fancy cake, music, balloons and lots of applause, these ten employees proudly received their diplomas and thanked their management and their instructor, Aydalid Valencia for giving them "what we need to do to grow in life."
Present for the celebration were Denise Petrosky, Operations Manager for IBI, Lisa R. Hiscano, Director of the Industry-Business Institute, Angela Mola, Area Director of Marriott CFRST properties for the Eastern Region, and a team of supportive co-workers. Hiscano said, "I've never seen so much enthusiasm at a graduation ceremony. I can see this program really added something to these student's lives."
The program already shows signs of success. Looking ahead, Pappagallo said plans include bringing in additional classes in MS Word, MS Excel, ESL Part 2 and another ESL Part 1 for employees who were not able to take advantage of the first class.  The Industry-Business Institute is the division of Union County College that provides workforce training to businesses in the area. Training is conducted at any of Union four campuses and can be customized and brought on-site for client companies. Contact Lisa Hiscano for an appointment to discuss your company's training needs. She can be reached at 908-965-2358 or email at Hiscano@ucc.edu
Industry-Business Institute Trains Summit YMCA Staff in Computer Skills Via Workforce Grant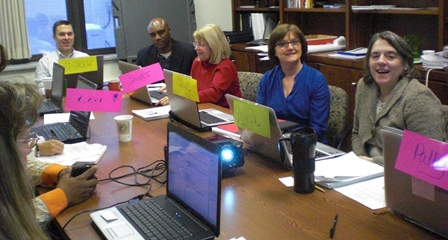 Summit YMCA staff members at Industry-Business InstituteTraining: Andrew Bobbitt (VPO), Collin Walters (IT Assistant), Janet Smith (VP Human Resources), Cheryl Worobetz (Bus. Mgr. Summit Branch), and Angela Griefen (Director of Communications)
Since their founding in 1886, the Summit Area YMCA has worked to strengthen the foundations of the communities they serve with programs that develop youth, foster healthy lifestyles, and promote social responsibility. Their commitment is to make their programs accessible to all. This mission has not changed since their roots were put down in their first building on Springfield Avenue in Summit in 1893. But, the means by which they serve, of course, has evolved with the times.
In February, 2011, the YMCA staff wanted to find better more efficient ways to use the tools they have at their fingertips, tools that help them to reach out to the community and through which the community communicates with them. William Brown, IT Director, called upon the Industry-Business Institute at Union County College to answer that desire in his co-workers. His colleagues rely on personal contact with the people in the towns they serve to get the word out about their programs and special events. Lots of that contact happens through the telephone and more and more through email accessed through Microsoft's Outlook software. YMCA employees knew they could do more with this tool than the basics of sending and receiving email, keeping contact lists and calendars, and working off notes and to-do lists. The Industry-Business Institute brought a Basic Skills Workforce Training Program in computer skills to the YMCA's administrative offices and conducted a full day's training In Microsoft's Outlook for thirteen YMCA staff members. This training program is funded through the NJBIA Basic Skills Workforce Program supplied by the New Jersey Department of Labor and Workforce Development.
William Brown collected assorted laptops from employees and arranged them in classroom/computer lab style in one of their meeting rooms. That was in February, 2011. Since then, IBI has obtained a mobile computer lab that includes 18 laptops for use on their client's premises. Gathering of equipment is no longer a task their clients must undertake. This is good news for Mr. Brown who plans to ask IBI back for additional training.
"The Basic Skills Computer training in Outlook increased our 'uplook' to reach out to the community and serve," said Mr. Brown. "We were able to expand our knowledge and use of Outlook's inherent features for managing meetings and schedules. We now use more of the advanced capabilities in the software to access calendars and invite staff to participate in meetings efficiently, saving the time it takes to plan and schedule important discussions. We also manage and share contact lists and do customer outreach more effectively. All of this, although simple, enhances our ability to get information to our communities and better meet our goals."
An informal survey of training participants resulted in enthusiastic and positive commentary on the quality of instruction and the flexibility and knowledge of the instructor. "The planned agenda was thorough to begin with," said Mr. Brown. "But the instructor added more insight based on the questions from our trainees. She went beyond our expectations. This program and the knowledge we now possess allows us to be more flexible, to improve our ability to communicate with each other and the community which in turn make us more effective in serving the towns in our area in ways that cannot necessarily be measured."
Union County College's Industry-Business Institute provides customized workforce training and education to enterprises in the local area and strives to help businesses toward improved productivity. Their goal is to meet their client's needs by training or re-training existing employees and potential new staff members in the skills necessary in today's evolving business markets.
Union County College is a public comprehensive college and is the oldest of New Jersey's system of nineteen county colleges. The College operates major campuses in Cranford, Elizabeth, Plainfield, and Scotch Plains, New Jersey and enrolls over 36,000 college credit, continuing education and workforce training students. All four campuses are located in the New York metropolitan area and are easily accessible by car and public transportation.
For information on how you can take advantage of Industry-Business Institute's programs, please contact us at: 908-965-2358 or ibi@ucc.edu.