COVID-19 Reporting Procedure
Report Positive Cases to the College Immediately
COVID-19 Dashboard
Reported positive cases of COVID-19 amongst Union County College employees and students
There have been a total of 295 cases at the college since re-opening campuses 7/27/2020.
The breakdown of those cases (Last updated: 04/21/2021):
| Primary Campus | Employees | Students |
| --- | --- | --- |
| Cranford campus | 26 | 59 |
| Elizabeth campus | 15 | 55 |
| Plainfield campus | 4 | 19 |
| Scotch Plains | 2 | |
| Virtual Learning | 4 | 111 |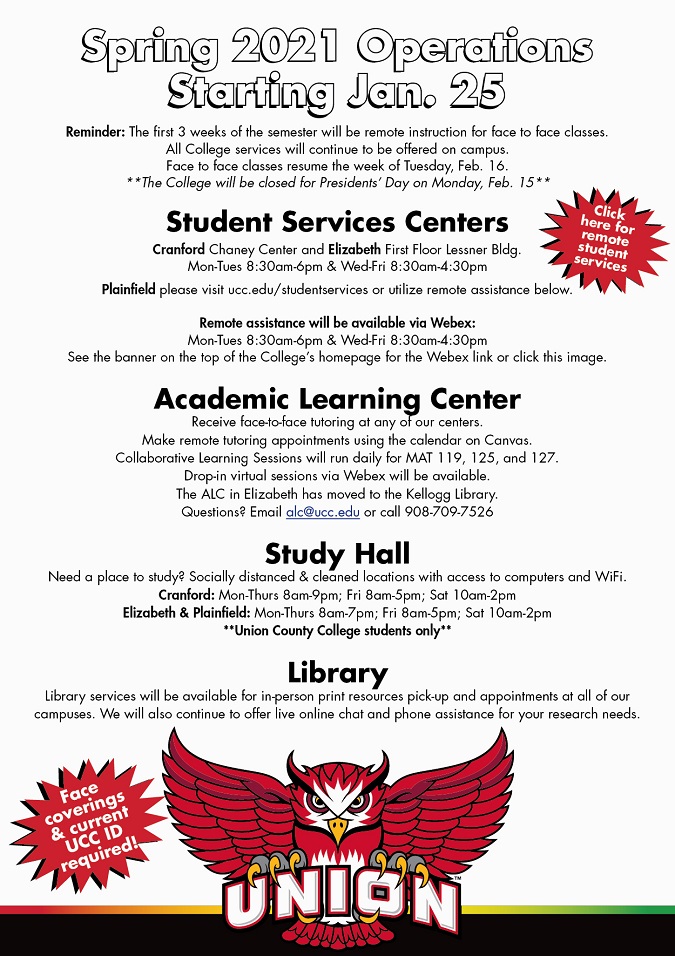 Spring 2021
There is a change for face to face classes in the spring 2021 semester. The spring 2021 semester will begin with 3 weeks of Remote instruction. All College services will continue to be offered on campus during the spring semester.
Starting on the first day of regular start classes, Monday, January 25, 2021 through Sunday, February 14 all face to face classes will be remote.
The College will be closed for Presidents' Day on Monday, February 15.
Students who are enrolled in face to face classes will resume face to face classes the week of Tuesday, February 16.
The above changes have no impact on remote live or online classes.
See the 1/6/2021 Communication below for more information.
College Coronavirus Communications
Additional Resources
Coronavirus Health Information
Symptoms

People with COVID-19 have had a wide range of symptoms reported – ranging from mild symptoms to severe illness. Symptoms may appear

2-14 days after exposure to the virus.

People with these symptoms may have COVID-19:

Fever or chills
Cough
Shortness of breath or difficulty breathing
Fatigue
Muscle or body aches
Headache
New loss of taste or smell
Sore throat
Congestion or runny nose
Nausea or vomiting
Nausea or vomiting
Diarrhea

This list does not include all possible symptoms. CDC will continue to update this list as we learn more about COVID-19.

Prevention Methods

There is currently no vaccine to prevent coronavirus disease 2019 (COVID-19). The best way to prevent illness is to avoid being exposed to this virus. Our entire college community is encouraged to practice preventative actions to help prevent the spread of respiratory diseases:

Avoid close contact with people who are sick.
Avoid touching your eyes, nose, and mouth.
Stay home when you are sick.
Cover your cough or sneeze with a tissue, then throw the tissue in the trash.
Clean and disinfect frequently touched objects and surfaces using a regular household cleaning spray or wipe.
Wash your hands often with soap and water for at least 20 seconds, especially after going to the bathroom; before eating; and after blowing your nose, coughing, or sneezing.
If soap and water are not readily available, use an alcohol-based hand sanitizer with at least 60% alcohol. Always wash hands with soap and water if hands are visibly dirty.

If you do not feel well, stay home except to get medical care. Call your doctor before going to their office, but be sure to get care if you feel worse or think it's an emergency. Avoid public transportation.

Further Health Resources & Guidance

This is a developing situation, and we encourage you to stay informed by visiting: 1-800-222-1222 or 1-800-962-1253. People looking for emotional support can call 1-877-294-4357.