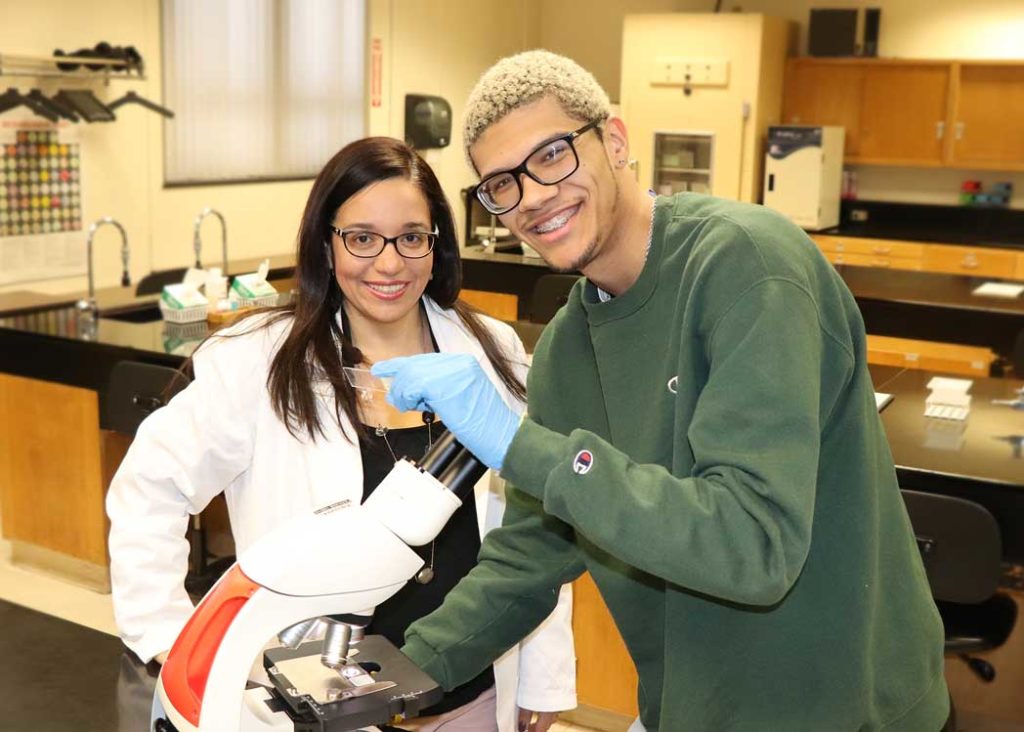 Dr. Marie Montes-Matias and Jordan Darby.
Meet Jordan Darby, '20
Future Surgeon Thrives from His Undergraduate Research Experience
Major: Biology
I graduated from Union High School and planned to run track at a four-year university. However, an injury kept me from attending and with one month left before the fall semester, I decided to stay close to home. I toured Union and learned about the academic opportunities available through the American Honors program, most especially how they could help me reach my full potential.
I majored in biology because I want to go to medical school and work in emergency medicine. I hope to transfer to New York University to complete my bachelor's degree. Some people think I'm crazy to want to be an ER Surgeon, but I think it will be interesting because no two days will be the same.
American Honors at Union is perfect for me. I really enjoy research and the program has allowed me to do two exciting things: to serve as its Council President, and to participate in an undergraduate research project.
I met my mentor, Dr. Marie Montes-Matias, during my first semester. She was the awesome instructor who taught my biology class. She has a unique and interesting way of presenting information and I love her teaching style. Halfway through my first semester she noticed I enjoyed research and recommended that I apply to participate in the undergraduate research project. I was accepted to the program and during the following semester, with another student, I researched, "The Microbial Retention Capacity of Different Bath Products." The results were the opposite of what we anticipated. We expected that the soap would clean more than it did, and in some tests, the contamination spread. With this experience, Dr. Montes-Matias challenged us and our results, and yet guided us through the process.
If someone were to ask me about Union, I'd tell them it is a place with endless opportunity. Your college experience is what you make of it and I have taken full advantage of all that has been offered to me. I'm in the American Honors program, a tutor in the Academic Learning Center for biology and chemistry, and I am planning to run track in the spring. I've found my niche. I decided to say "yes" to all experiences offered to me and in return, I've gained so much.
---
Assistant Professor of Biology Dr. Marie Montes-Matias joined Union in fall 2013. She loves biology because it is the study of life and she has always been fascinated by the "miracle of life." She looks forward to understanding how living things work and how biology connects to other disciplines. Dr. Montes-Matias enjoys Union's diverse student population and is thankful for the chances she's had to work outside of the classroom as a PTK advisor and an undergraduate research mentor. She began her career as an Assistant Professor at the New York City College of Technology. Dr. Montes-Matias earned her Ph.D. in microbiology and molecular genetics from Rutgers University-New Brunswick and has a bachelor's in industrial microbiology from the University of Puerto Rico, Mayaguez Campus.