Cranford – Union College of Union County, New Jersey is excited to announce that six of its students are semifinalists for theprestigious Jack Kent Cooke Foundation (JKCF) Undergraduate Transfer Scholarship – the most in Union's history. The semifinalists are Eman Abdelrahman, of New Providence; Ozichi Chinedu, of Freehold; Joceline Gissel Guerra Osorio, of Elizabeth; Junaid Ilyas, of Roselle Park; Yeicob Martinez, of Rahway; and Carine Medellus, of Roselle. Union's six semifinalists all have at least a 3.65 GPA, are members of Phi Theta Kappa (PTK), the International Honor Society for two-year colleges, and have been very involved in various clubs and activities during their time at Union.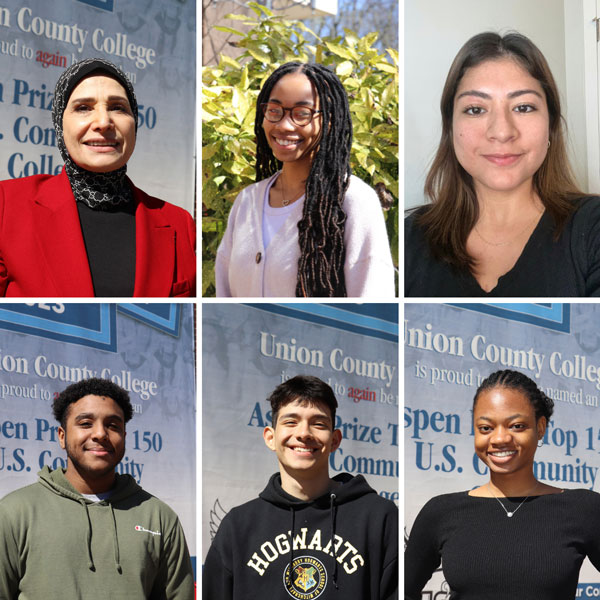 For students to be considered for the JKCF Scholarship, they must have at least a 3.5 GPA, and demonstrate financial need. When a student is selected as a JKCF Transfer Scholar, they receive financial support of up to $55,000 for two to three years to complete their bachelor's degree, college planning support, ongoing advising, and the opportunity to connect with fellow JKCF scholars.
Eman Abdelrahman is an adult student with a 3.87 Grade Point Average (GPA) and is studying architecture at Union. She is a member Union's Architecture Honors Society. Abdelrahman plans to continue her academic career as an architecture student at a four-year university. After completing her degree, she plans to pursue a career in sustainable housing design. By focusing on sustainable housing, she hopes to contribute to a more environmentally conscious future and positively impact society.
Ozichi Chinedu has a 4.0 GPA and is studying computer information systems and technology. She is the Vice President of Scholarship Hallmark for PTK, Vice President of Union's Model United Nations, and an Academic Learning Center (ALC) tutor. Chinedu was also selected as a 2023 Coca-Cola Academic Team Silver Scholar and will receive a scholarship. Selection as a Coca-Cola Silver Scholar was based on scores the student earned in the All-USA Academic Team competition, for which more than 2,400 applications were received this year. This program is sponsored by the Coca-Cola Scholars Foundation and is administered by PTK Honor Society. Chinedu plans on continuing her studies at a four-year institution with a goal of obtaining her master's degree and becoming a project manager or systems analyst.
Joceline Guerra Osorio graduated from Union this past winter with an associate degree in business and a 3.94 GPA. While at Union, she was a member of PTK, the National Society of Leadership and Success, and a tutor in the ALC. At Union's Winter Commencement, she received the Abdallah-Thomas Memorial Award, which is awarded to a student from the graduating class who has at least a 3.25 GPA, has participated in college life through service in college activities and/or sports, and has completed community service. Guerra currently attends Kean University, where she studies management and business analytics. Her career goals are to obtain a master's degree in business analytics and earn a Ph.D. in data analysis and use those skills working for a business or an organization.
Junaid Ilyas has a 3.89 GPA and is studying engineering. He is a Kaplan Scholar, member of the American Honors Program, and a tutor in Union's ALC. Ilyas is also the senator for Union's Engineering Society and part of Project Achievement, Union's student success initiative for Black male students. Regarding Ilyas' future, he plans to further his education by pursuing a bachelor's and master's degree in mechanical engineering, with a career goal of being a vehicle engineer. Specifically, being part of the innovation side of vehicle design, creating ideas that he believes "other gear-heads would go crazy over."
Yeicob Martinez has a 3.65 GPA and is studying business. He currently serves as President of Union's Iota Xi chapter of PTK and is a member of the American Honors Program. When he isn't hitting the books, Martinez is spiking balls as co-captain of the Men's Volleyball team at Union. Martinez plans to continue his education at a four-year institution and then a master's, studying business administration and finance. As for career goals, Martinez wants to enter a private equity or be an employee at AMD, a company he has always admired.
Carine Medellus has a 4.0 and is studying biology. Medellus is the Committee Leader of Scholarship in PTK, Vice President of the Research Club, an American Honors Program student, and an ALC tutor. Medellus was also selected as one of only 20 students nationwide to be a member of the 2023 All-USA Academic Team which is sponsored by Cengage with additional support provided by the American Association of Community Colleges and PTK. Medellus plans to transfer to a four-year university and study biochemistry, and her career goal is to focus on scientific research.
"What an accomplishment for these five scholars to be selected as semifinalists for the Jack Kent Cooke Foundation Undergraduate Transfer Scholarship. Their hard work, the focus on their academic studies, as well as their involvement at Union has paid off with this great recognition," stated Union's President Dr. Margaret M. McMenamin. "We are grateful to our previous JKCF transfer scholarship recipients, McDaniel Jeantus (Union '16) and Mark Farag (Union '22) for coming back to the help our next scholars" said Dr. McMenamin. "This is a transformative opportunity for students to receive funding and support for their education, and we wish each of our five semifinalists the best of luck."
Recipients of the JKCF Undergraduate Transfer Scholarship is expected to be announced in April. Union College is a public, comprehensive community college that provides quality, affordable, accessible educational programs to the greater Union County region. It is the first of New Jersey's 18 two-year colleges, serving both career-minded and transfer-oriented students since 1933. The College offers a wide variety of academic and extracurricular activities. Union provides many experiential learning opportunities such as access to a Bloomberg Business Center, Innovation Center, and Student Research hub. Additionally, students at Union attend one of the top 25 community colleges in the country for 2023 as designated by the Aspen Institute College Excellence Program. For more information about Union, please visit www.ucc.edu and for more information on the JCKF, please go to www.jkcf.org.