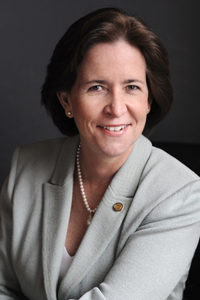 Dr. Margaret M. McMenamin is the President of Union College, the first of New Jersey's 18 community colleges, founded in 1933. Since her appointment as President in July 2010, Dr. McMenamin set forth an aggressive agenda centering on improving student success outcomes. She revitalized student services, strengthened academic advising, partnered with faculty to improve teaching and learning, and engaged the entire campus community in renewing their collective commitment to student success. During her tenure at Union, the College has more than quintupled its IPEDS graduation rate. In 2019, the Aspen Institute for Community College Excellence named Union College as a Top 150 Community College in America. In October 2020, Dr. McMenamin was named the Marie Y. Martin Community College CEO of the Year by the Association of Community College Trustees.
Dr. McMenamin attended Temple University and graduated cum laude with a Bachelor of Science in Physical Therapy. She subsequently earned a Master of Science from the University of Scranton and a Doctorate in Educational Leadership from Lehigh University. Dr. McMenamin was previously employed as a professor and VP of Academic and Student Affairs Lehigh Carbon Community College and Executive Vice President of Educational Services and Acting President at Brookdale Community College.
In 2019, Dr. McMenamin served as Chair of the Middle States Commission on Higher Education. She was the chair of the American Association of Community Colleges' President's Academy Executive Committee, a member of the executive committee of the New Jersey Presidents' Council, the International Commission for the Hispanic Association of Colleges and Universities, and the National Junior College Athletic Association Executive Committee. Dr. McMenamin is involved with numerous community organizations, including the Boards of Trinitas Hospital, Union County Performing Arts Center, Union County Crime Stoppers, Elizabeth Development Company, Union County Workforce Development, Montgomery Academy, and the NJPBS Community Advisory Board. In 2015, she was honored to serve as the Grand Marshal of the Union County Saint Patrick's Day Parade.