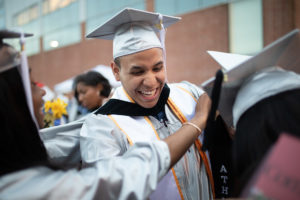 Beginning Fall 2021, the University Center will allow motivated students to earn a bachelor's degree! The best part — you can receive a bachelor's degree from prestigious partner Universities, like Kean and Saint Peter's, from the convenient location of Union County College's Scotch Plains Campus.
Students can earn their Associates degree at Union's Scotch Plains campus in Liberal Arts and Liberal Studies programs.
---
University Center Overview
---
How it works:
Complete an Associates degree from Union County College.
Apply and Register for a select University Center program from our Partners hosted at our Scotch Plains campus.
Take program courses from qualified faculty.
Graduate in 2-years with a bachelor's degree.
Available Partner Program Degrees:
Apply Now!
Saint Peter's University Application

University Center Dual-Admissions Program Application
Transcript(s)
One letter of recommendation
GPA of at least 2.5
Students below a 2.5 may be considered through a faculty review process that allows for a holistic review of the student's academic performance and potential for success
Demonstrated proficiency in the sciences, particularly in the Union County Biology, Chemistry and equivalent courses
Students coming from non-science degree programs should have the prerequisites that support the continuation into a STEM major
Students without science prerequisites will be considered for admission and may need to take Biology, Chemistry as a Saint Peter's University student to complete the curriculum for the Biology degree
Minimum cumulative GPA is 2.0 or better for transfer of credit and degree completion
Courses that do not meet the curriculum requirements for the Biology program will be considered as electives and/or general electives

Kean University Application

– View Kean Program Flyer
Kean University will be offering the bachelor's degree for Criminal Justice, Psychology, Supply Chain Management programs at Union County College's Scotch Plains campus. The admission criteria for Kean is a 2.0+ GPA. Students who have graduated with an associate's degree or will be graduating and are in their last semester, should apply to Kean via the link below: