Union College of Union County, New Jersey is hosting a unique opportunity for rising high school juniors and seniors – the chance to earn college credits for free! The Summer College Program begins July 5 and runs through August 15 with students eligible to earn up to 6 college credits. Besides learning in a college environment, students will attend various workshops and engagement events to enhance their learning potential and develop their leadership skills.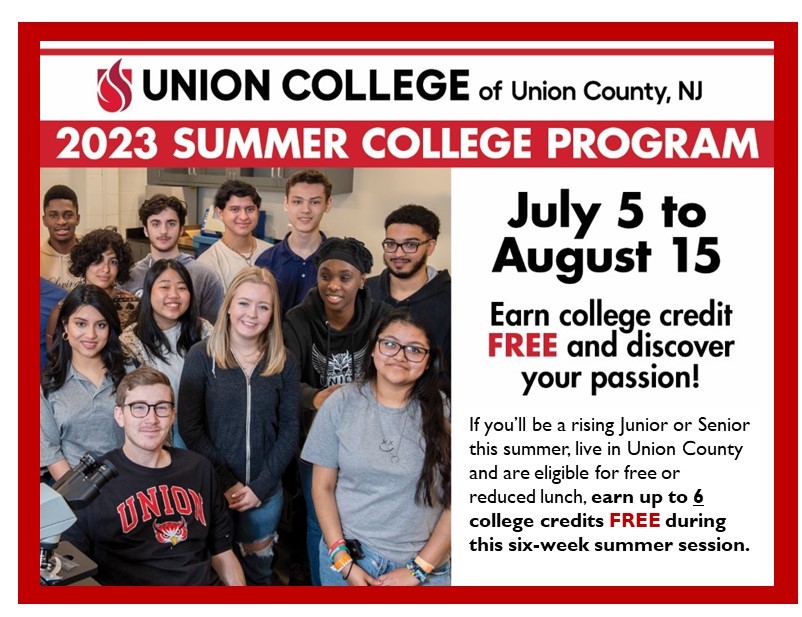 As they begin their time at Union, students will take one STEM course and one English course. The goal of this year's summer program is to accelerate academic momentum, work towards retention and completion goals, and participation in college readiness workshops and career exploration. Students will have access to tutoring in the Academic Learning Center as well as advisement sessions.
In order to qualify for this program, a student must be a rising junior or senior residing in Union County. Further eligibility is determined by the United States Department of Agriculture 2022-23 Income Eligibility Guidelines.
In addition to academic courses, students will have the opportunity to grow through various workshops and engagement events. W.I.S.E. Owl Sessions will focus on activities to enhance the student's ability to win, innovate, succeed, and excel. Personal Wellness sessions will teach students habits that can promote physical, mental, and emotional well-being to enhance their mindset. Club Kick-Back, led by Union's College Life team, will provide opportunities to network with other students, check-in about their experience for the week, and learn about student clubs on campus.
Space is limited for Union's Summer College Program. For more information, contact Tawn Walker, Coordinator of High School Initiatives at Dualenrollment@ucc.edu or by phone at 732-347-6467. Union College of Union County, NJ is a public, comprehensive community college that provides quality, affordable, accessible educational programs to the greater Union County region. It is the first of New Jersey's 18 two-year colleges, serving both career-minded and transfer-oriented students since 1933. The College offers a wide variety of academic and extracurricular activities. There more than 65 programs of study including Communications, eSports Management, Engineering, Health Information Technology. Students can participate in clubs, honor societies, and a full array of NJCAA athletics beyond Esports including basketball, baseball, lacrosse, soccer, wrestling, and more. The College offers many experiential learning opportunities such as access to a Bloomberg Business Center, eSports room, Innovation Center, and Student Research hub. Additionally, students at Union will be attending one of the top 25 community colleges in the country as designated by the Aspen Institute College Excellence Program.