Cranford, NJ – Union College of Union County, New Jersey held its commencement ceremony for the class of 2023 on May 17 at the College's Cranford Campus. Two ceremonies, which were led by Union's President Dr. Margaret M. McMenamin, were held to honor the more than 700 graduates.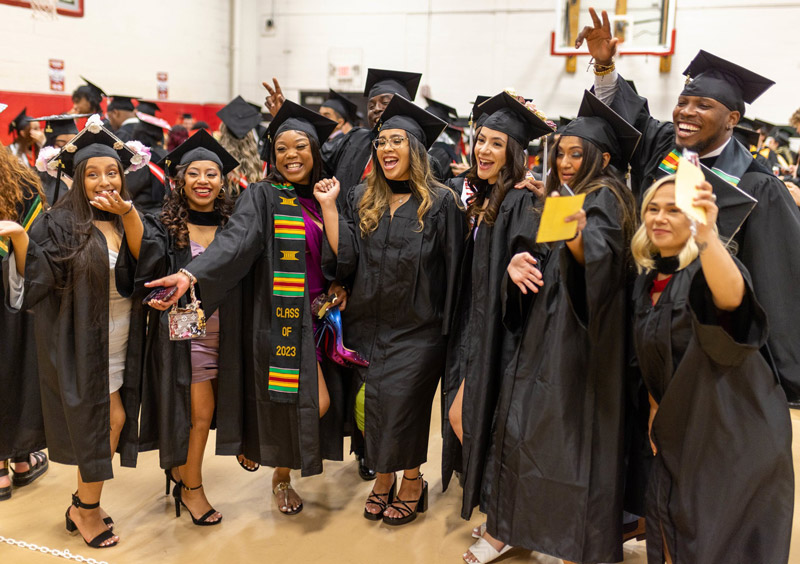 The ceremonies began with the singing of the National Anthem, featuring two Union College 2023 graduates. The singer for the first ceremony was Gina Sanon, of Elizabeth, and Kiara Torres, of Union, sang for the following ceremony. Union's Board of Trustees Chair Victor M. Richel welcomed the graduates and their families on behalf of the College's Boards. Each commencement featured a student speaker to address their fellow graduates and the ceremony's attendees. Kamia Boykin, of Linden, spoke at the first ceremony. She was a member of Phi Theta Kappa honor society and a student athlete. Boykin will attend Saint Peter's University in the fall. The speaker at the second ceremony was Rachel De La Cruz, of Elizabeth. De La Cruz was an American Honors student, President of the American Honors Council, and spearheaded the creation of the Library Mailbox on the College's Cranford Campus. De La Cruz confirmed that she will earn her bachelors degree from Amherst College.
Several students were recognized for both their academic and extracurricular achievements. The Post-Day Memorial Award is given to the students that best exemplify the College's ideals of scholarship, leadership, and service. At the first ceremony, the Post-Day Memorial Award was presented to Savayra Rao, who graduated with a 4.0 GPA and Krystal Villalobos, who graduated with a 3.8 GPA. Both Rao and Villalobos are from Elizabeth and will continue their education at Rutgers University. At the second ceremony, the Post-Day Memorial Award was presented to Rachel De La Cruz, who graduated with a 4.0 GPA and Matthew Lescano, of Union, who graduated with a 3.9 GPA. Lescano will transfer to Drew University this fall.
The Alumni Prize was presented to the graduating student with the highest GPA at each ceremony. The recipient at the first ceremony was Sara Vera, of Elizabeth. She graduated with her associate degree in architecture and a 4.0 GPA. Vera also earned the Outstanding Achievement in Architecture Award, presented at Union's Awards Night. She will continue her studies at New Jersey Institute of Technology. The recipient at the second ceremony was Zackery Wong, who graduated with an associate degree in graphic design with a 4.0 GPA. Wong also was the recipient of the Outstanding Achievement in Graphic Design Award and will transfer to Kean University.
"Our graduating class of 2023 is a diverse group of students of different ages and backgrounds. We are proud of their drive and determination to achieve their goal of earning a college degree," stated Union's President Dr. Margaret M. McMenamin. "This group has seen their education through a pandemic, persevered, and received their college diploma. I am excited to see what they accomplish as they continue their journey."
Union College of Union County, NJ is a public, comprehensive community college that provides quality, affordable, accessible educational programs to the greater Union County region. It is the first of New Jersey's 18 two-year colleges, serving both career-minded and transfer-oriented students since 1933. The College offers a wide variety of academic and extracurricular activities. There more than 65 programs of study including Communications, eSports Management, Engineering, Health Information Technology. Students can participate in clubs, honor societies, and a full array of NJCAA athletics beyond Esports including basketball, baseball, lacrosse, soccer, wrestling, and more. The College offers many experiential learning opportunities such as access to a Bloomberg Business Center, eSports room, Innovation Center, and Student Research hub. Additionally, students at Union will be attending one of the top 25 community colleges in the country as designated by the Aspen Institute College Excellence Program.