Union County College is committed to assisting students in accessing resources that meet their basic needs.
Any student who has difficulty securing enough food to eat and/or lacks safe and stable housing is urged to contact Union County College's Social Worker for support and guidance in becoming connected to resources.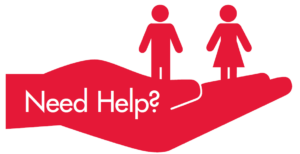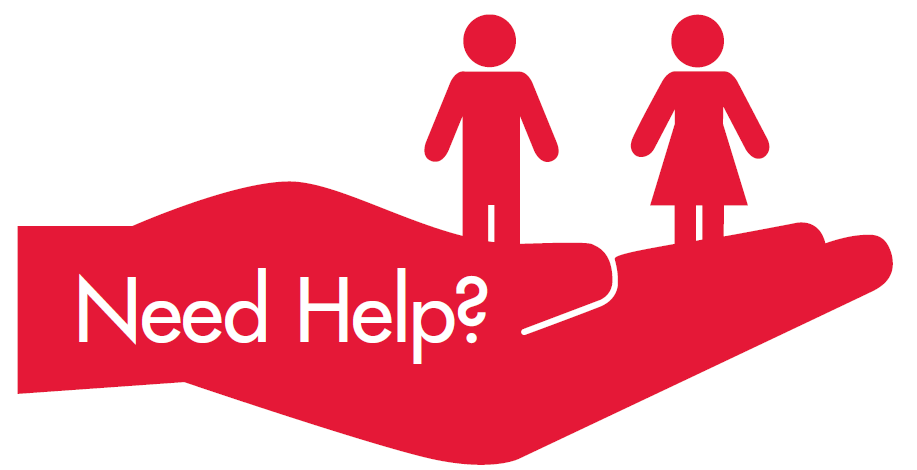 Contact Information
Dr. Takeem L. Dean
Phone: (908) 709-7139
Email: Deanofstudents@ucc.edu
Emma Laffey, MSW
Phone: (908) 527-7246
Email: Emma.Laffey@ucc.edu and/or SocialWorkServices@ucc.edu
Maryam Saleem, LSW
Phone: (908) 709-7585
Email: Maryam.Saleem@ucc.edu and/or SocialWorkServices@ucc.edu
Tiffany Douglas, MSW
Phone: (908) 709-7581
Email: Tiffany.Douglas@ucc.edu and/or SocialWorkServices@ucc.edu
Hours & Campus Location
Cranford Campus: 8:30 am – 4:30 pm Mac Donald Hall Suite A-135
Elizabeth: 8:30 am – 4:30 pm Lessner Building Rm 307
Plainfield Campuses: By appointment only
Resources
For individuals in need of financial assistance, emergency housing and food, and screening for benefits, including SNAP and Medicaid, please access The Department of Human Services: The Division of Social Services in your respective County.
For assistance in locating an off-campus food pantry, please utilize the following resources:
For assistance in securing affordable internet services, please utilize:
Ongoing referral information and support include, but are not limited to:
Benefits offered through the County's Division of Social Services, including: Supplemental Nutrition Assistance Program (SNAP), Special Supplemental Nutrition Program for Women, Infants, and Children (WIC), Temporary Assistance for Needy Families (TANF), and General Assistance (GA)
Domestic Violence Services
Obtaining Medical Insurance Coverage
Inpatient and Outpatient Mental Health Counseling and Support Groups
Housing, Temporary Rental Assistance, and Emergency Shelter
Available Subsidies, including Child Care and Utility assistance
Substance Use Disorder Treatment and Support Groups
Accessing local Food Pantries and Meal Programs
Union County College's Food Pantry
Interested in Donating to the Food Pantry?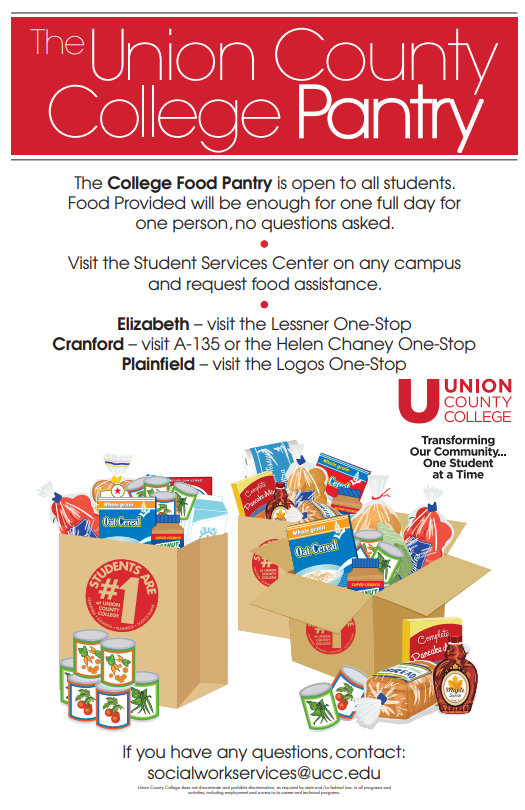 Emergency Contacts
If you need assistance for an emergency or crisis, immediately contact one of the following resources:
For immediate emergencies CALL 911, or mobile community outreach at Trinitas Regional Medical Center, 908-994-7131 to speak with a psychiatric screener.
Public Safety:  Cranford Campus (908) 709-7152
Elizabeth Campus (908) 659-5195
Plainfield Campus (908) 965-6070
Suicide Prevention Lifeline: 1-800-273-TALK (8255) (24-hr. contact)
1-800-SUICIDE (784-2433)
Caring Contact: 908-232-2880 (24-hr. contact)
TEXT "heart" to 741-741
Military Veterans Hotline:1-800-273-TALK (8255) (Press 1)
Suicide Hotline in Spanish: 1-800-273-TALK (8255) (Press 2)
LGBTQ Suicide Hotline:1-866-4-U-TREVOR (8-873867
To complete a wellness self-screening, please click HERE