myUnion Login permits simple and secure access to many important apps, including:
– College Email Account, Canvas, and Self Service…
myUnion How-To Guides
---
FAQ's
Clicking the "Need help sigining in?" text below the blue "Sign In" button will provide you with the following resources:
Forgot password?
Unlock account?
myUnion Techsupport Help Page (takes you to this page)
"Forgot password" and "Unlock account" will both allow you to reset your password by confirming your identity. Enter your College email address for the email reset (will not work if you have not previously set up a recovery email account.)
Alternatively, if you've already successfully set up SMS Second Factor Authentication, you can enter your cellphone number for the SMS reset.
Help! I'm still receiving a "unable to sign in" error message
Review the myUnion setup guide on above section to see if you can recall/retrieve your login credentials. If that doesn't work...
Email techsupport, saying that you have received the 'unable to sign in' message in myUnion and providing your computer's IP address given to you by Accessing the free myIP Web Tool
Email techsupport@ucc.edu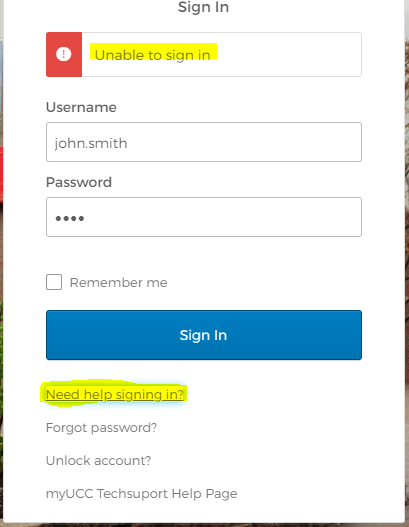 Only One! To manage your second factors:
Click on your name and then settings
Edit Second Factors under the heading "Extra Verification"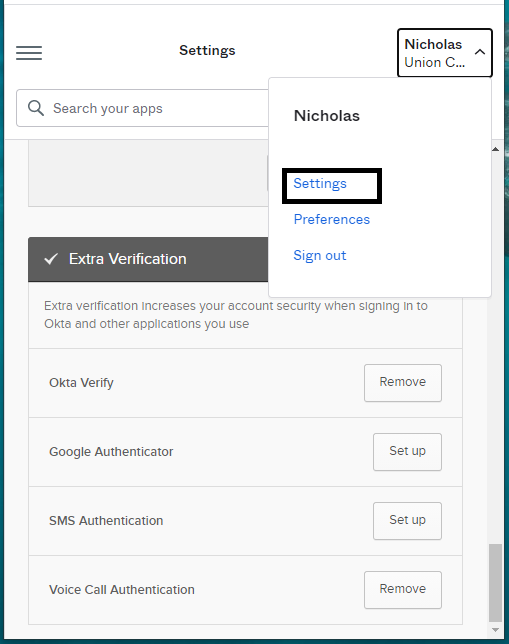 Configuration Guides
myUnion Setup and Account Customization Video Guide

Jump to:
myUnion Homepage Preview
---