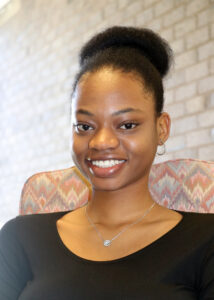 Cranford – Union College of Union County, New Jersey student Carine Medellus, of Roselle, is one of only 20 college students nationwide named to the prestigious All-USA Academic Team and will receive a $5,000 scholarship. More than 2400 students were nominated for this award. Medellus is studying biology at Union and has a 4.0 grade point average. She is the Committee Leader of Scholarship in Phi Theta Kappa (PTK), the Vice President of the Research Club, an American Honors Program student, and a peer tutor in the College's Academic Learning Center. Medellus is currently working on an undergraduate research project with her dedicated professors.
Team members were selected for their outstanding intellectual achievement, leadership, community, and campus engagement. The All-USA Academic Team is sponsored by Cengage, with additional support provided by PTK and the American Association of Community Colleges (AACC).
The All-USA program is widely recognized as the most prestigious academic honor for students attending associate degree-granting institutions. Each college may nominate two students for showing intellectual rigor and demonstrating academic achievement, leadership, and civic growth. The program also recognizes students who extend their community college education to better themselves, their schools, and their surrounding communities.
Learn more about the All-USA Academic Team Scholarship Program.
"We are deeply inspired by the achievements of this year's All-USA Academic Team. With so much focus and pressure on which post-secondary institution a student attends, these students show that the real keys to success are hard work and determination," said Edwin Robles, Senior Vice President and General Manager, US Higher Education and Canada, Cengage. "Community colleges play an important role in providing affordable education that helps students transition successfully to the workforce or a four-year institution. Despite facing significant enrollment headwinds since the pandemic, community colleges have been the most innovative in taking steps to make learning more flexible, affordable and accessible. We are proud to support these institutions and their students in their continued success."
Additionally, Medellus was named a 2023 New Century Transfer Pathway Scholar and will receive a $2,250 scholarship. Selection was based on the score earned in the All-USA Academic Team competition. Medellus received the highest score in New Jersey. The program is sponsored by The Coca-Cola Foundation, the Coca-Cola Scholars Foundation, Phi Theta Kappa, and AACC.
"The Union community is very proud of Carine's achievements and the recognitions she has earned during her time at Union. Her strong work ethic and passion for success are going to help her accomplish great things," stated Union's President Dr. Margaret M. McMenamin "We applaud the PTK faculty advisors and staff for their successful mentorship of Ms. Medellus. She has achieved what very few students have ever achieved."
As for her plans after graduating from Union, Medellus has been selected as an undergraduate researcher at the University of Buffalo for this upcoming summer. She plans to transfer to a four-year university and study biochemistry, and her career goal is to earn a doctorate and work as a researcher. Medellus will be recognized during the AACC convention at PTK's Presidents Breakfast on April 3, 2023, in Denver, Colorado.
About Cengage
Cengage, the U.S. Higher Education business of global education technology company Cengage Group, serves millions of instructors, learners, and institutions. We deliver affordable, high-quality digital products and personalized support to power learning individually and at scale. Our customer-centered approach enables innovation, including Cengage Unlimited, the first and only all-access digital subscription for textbooks and course materials. Our textbooks, homework tools, and flagship online learning platforms, MindTap and WebAssign, help educators and students achieve their goals. Learn more at www.cengage.com.
About Phi Theta Kappa
Phi Theta Kappa is the premier honor society recognizing the academic achievement of students at associate degree-granting colleges and helping them to grow as scholars and leaders. The Society is made up of more than 3.8 million members and nearly 1,300 chapters in 11 countries, with approximately 240,000 active members in the nation's colleges. Learn more at www.ptk.org.
About Union College of Union County, New Jersey
Union College is a public, comprehensive community college that provides quality, affordable, accessible educational programs to the greater Union County region. It is the first of New Jersey's 18 two-year colleges, serving both career-minded and transfer-oriented students since 1933. The College offers a wide variety of academic and extracurricular activities. Union provides many experiential learning opportunities such as access to a Bloomberg Business Center, Innovation Center, and Student Research hub. Additionally, students at Union attend one of the top 25 community colleges in the country for 2023 as designated by the Aspen Institute College Excellence Program. For more information, visit https://www.ucc.edu/