Cranford, NJ – Junaid Ilyas and Carine Medellus, students at Union College of Union County, NJ, are two of 60 high-achieving community college students selected to receive the Jack Kent Cooke Foundation's Undergraduate Transfer Scholarship. The highly competitive national scholarship aims for Cooke Scholars to complete their undergraduate educations with as little debt as possible. The award, which is last dollar funding after all institutional aid, can provide Ilyas and Medellus with as much as $55,000 a year to complete a bachelor's degree.
Prior to this year, Union has had four students receive this prestigious scholarship. This is the first time Union has had two students selected to receive the Jack Kent Cooke Foundation's Undergraduate Transfer Scholarship in the same year.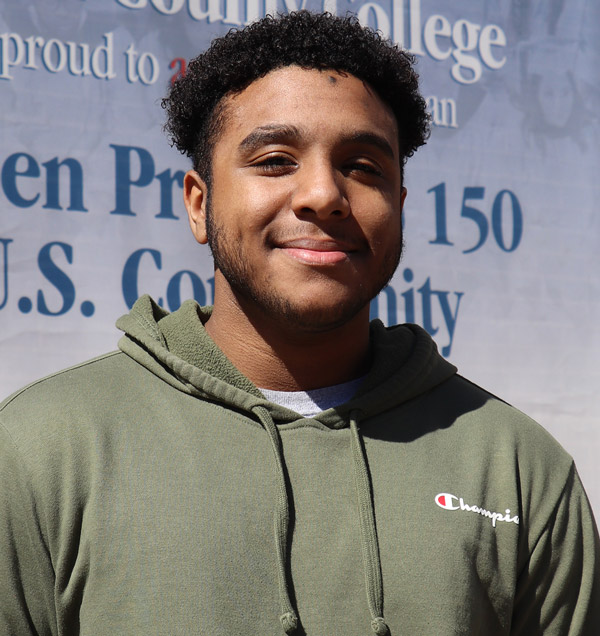 Junaid Ilyas, of Roselle Park, will graduate from Union this spring with an engineering degree. Earlier this year, Ilyas was selected one of only 11 students selected nationwide as a Kaplan Leadership Scholar. Ilyas is a peer tutor in the Academic Learning Center (ALC) and is a member of the College's American Honors program. He plans to pursue a bachelor's and master's degree in mechanical engineering with a career goal of being a vehicle engineer who innovates vehicle design.
Carine Medellus, of Roselle, has a 4.0 GPA and is majoring in biology. She is a member of American Honors, a tutor in the ALC, and serves as Leader of Scholarship for Phi Theta Kappa honor society and Vice President of the Research Club. This year, Medellus was named as one of only 20 college students nationwide to the prestigious All-USA Academic Team and will receive a $5,000 scholarship. Additionally, Medellus was named a 2023 New Century Transfer Pathway Scholar based on her score in the All-USA Academic Team competition which was the highest in New Jersey, she will also receive a $2,250 scholarship.
"There are so many bright and persistent community college students in our nation who we know will thrive at four-year institutions if they can find a way to transfer without being weighed down by a heavy financial burden," said Seppy Basili, executive director of the Jack Kent Cooke Foundation. "We are excited to welcome yet another cohort of Cooke Undergraduate Transfer Scholars to our community after learning about them through their applications and seeing their unbound potential."
"We are proud of both Junaid and Carine. Being named Jack Kent Cooke Foundation Scholars will allow them to transfer to and graduate from universities of their choice—debt free! Our previous Cooke Scholars have transferred to Dartmouth, Michigan, and Columbia. Union has the top Honors Program in New Jersey and our students benefit from small class sizes, expert but compassionate faculty, along with a price that can't be beat. Our College is the destination of choice for discerning students, honors and otherwise, who want a great education, an engaging college experience, and an affordable price. I look forward to seeing what great things these scholars will do with their Jack Kent Cooke Foundation Transfer Scholarship opportunity," stated Union President Dr. Margaret M. McMenamin.
Along with financial support, new Cooke Undergraduate Transfer Scholars will receive comprehensive educational advising to guide them through the process of transitioning to a four-year college and preparing for their careers. Scholars will additionally receive opportunities for internships, study abroad, and graduate school funding, as well as connection to a thriving network of more than 3,000 Cooke Scholars and Alumni.
This year, more than 1,700 students from 448 community colleges applied to receive the Cooke Undergraduate Transfer Scholarship. The Foundation evaluated each submission based on students' academic ability and achievement, financial need, persistence, and leadership.
A list of the 2023 Cooke Transfer Scholars, including their community colleges, can be found here.