Program Description
The Associate of Applied Science (A.A.S.) degree program in respiratory care offers a rigorous 69-credit course of study in respiratory care through a cohesive curriculum sequence that prepares graduates for entry-level career opportunities in respiratory care. Graduates will be eligible to sit for the National Board of Respiratory Care (NBRC) credentialing exams. Licensed respiratory care practitioners administer medical gases and aerosolized drugs; deliver bronchial hygiene therapy; and assist with resuscitation and medical emergencies. Respiratory care practitioners are responsible for inserting and maintaining artificial airways and managing critically ill patients of all ages who require advanced life support. Respiratory care practitioners also provide pulmonary rehabilitation and help educate patients, family members and the public at large, regarding the treatment and prevention of lung diseases. Graduates of the respiratory care program will be prepared to assist physicians with diagnosis and provide treatment and preventative care to patients with disorders of the heart and lungs.
Program Goal
To prepare graduates with demonstrated competence in the cognitive (knowledge), psychomotor (skills) and affective (behavioral) learning domains of respiratory care practice as performed by registered respiratory therapist (RRTs).
Program Learning Outcomes
Communicate effectively in oral, written and visual forms.
Demonstrate ethical and professional conduct according to (American Association for Respiratory Care) AARC's code of ethics.
Function effectively as a Registered Respiratory Therapist in a healthcare setting.
Demonstrate critical thinking in cardiopulmonary diagnosis and monitoring.
Manage respiratory care plans for adults, neonatal and pediatric patients.
Program Admission Requirements
Admission to the A.A.S. degree program in respiratory care at Union College requires additional criteria for selection.
Students must first be admitted to the college prior to applying for admission to the respiratory care program.
Students must complete prerequisites and achieve a cumulative GPA of 2.5

MAT 113 Math Applications
PSY 101 General Psychology
*BIO 105 Anatomy and Physiology I
*Students must have achieved a final grade of 2.5 in BIO 105 Anatomy and Physiology I
*Students must have achieved a final grade of C+ or higher in BIO 105 Anatomy and Physiology I
AHA CPR certification for the Healthcare Provider (BLS)

Student applications must be delivered no later than 4/30 for fall admissions.
Students can submit their application while waiting for pre-requisite final grade submission.
Students who wish to enroll into the Respiratory Care program, must view and complete the "Application for Admission" packet found at the bottom of this page by no later than 4/30 for fall admission consideration. This packet contains information and requirements for entry into the Respiratory Care program at Union College. For full consideration, send the completed application with all supporting documents, including unofficial transcripts to:
Email:
Email Monique Blackmon-Johnson
Postal Mail:
Monique Blackmon-Johnson
Division of Allied Sciences, Plainfield Campus
Union College
232 E. 2nd Street
Plainfield, NJ 07060
Completion of Criminal Background Check, Student Health Form, Proof of Proliability Insurance and AHA CPR certification for the Healthcare Provide (BLS) are only required AFTER acceptance into the program and prior to the Respiratory Care Program orientation.
Please submit official transcripts to:
Union College Admissions Office
1033 Springfield Avenue
Cranford, NJ 07016
Official high school transcript or GED scores (no college or prior course work was completed at Union College)
Official transcripts from colleges/universities attended
A World Education Services ® evaluation of foreign transcripts
Disability Services
Union College is committed to providing an inclusive educational experience for students with disabilities. The College adheres to the requirements of the Americans with Disabilities Act, including the recent Amendments, and Section 504 of the Vocational Rehabilitation Act of 1973 which prohibit discrimination based on disability. For more information click Disability Support Services.
Accreditation
Union College
Union College is accredited by Middle States Commission on Higher Education
3624 Market Street
Philadelphia, PA 19104
Main Phone Number (267) 284–5000
Union College Respiratory Care Program
The Respiratory Care Program, CoARC program #200628, Associate of Applied Science degree, Plainfield campus holds Provisional Accreditation from the Commission on Accreditation for Respiratory Care (www.coarc.com).
"This status signifies that a program with an Approval of Intent has demonstrated sufficient compliance with the Standards (through submission of an acceptable Provisional Accreditation Self Study Report (PSSR) and any other documentation required by the CoARC, as well as satisfactory completion of an initial on-site visit), to be allowed to admit students. It is recognized as an accredited program by the National Board for Respiratory Care (NBRC), which provides enrolled students who complete the program with eligibility for the Respiratory Care Credentialing Examination(s). The program will remain on Provisional Accreditation until it achieves Continuing Accreditation."
Recommended Course Sequence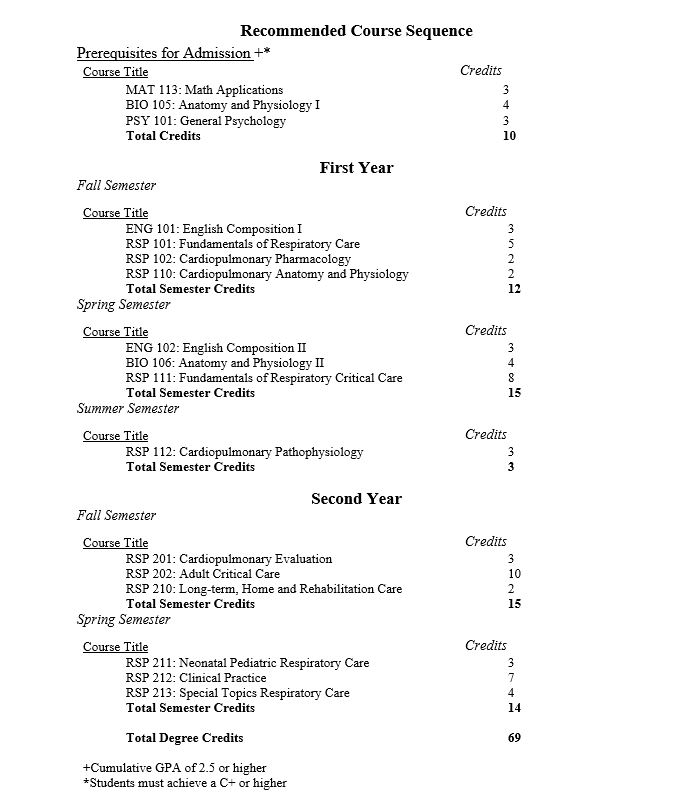 After Union College
Graduates are eligible to sit for the National Board of Respiratory Care (NBRC) credentialing examinations and apply for state licensure necessary for practice as a Registered Respiratory Therapist (RRT).
Respiratory Care Practitioners
Respiratory Care Practitioners (RCP) are members of a team that provide hands on care with patients in a variety of clinical environments. Respiratory Care Practitioners evaluate, treat and manage patients of all ages with respiratory illnesses and other cardiopulmonary disorders. They interact with patients and their families while helping them through trying times. Respiratory Care Practitioners are expected to exemplify the ethical and professional standards expected of all health care professionals.
Where Do RCPs Work?
Intensive Care Units, emergency departments, pediatric and neonatal units, labor and delivery rooms, homecare organizations, sleep centers, skilled nursing facilities, pulmonary rehabilitation centers, physician's offices, teach smoking cessation, air transport teams, and disease management programs.
Job Outlook
According to the Bureau of Labor and Statistics, employment as a Respiratory Care Practitioner is projected to grow 19 percent from 2019 to 2029. This increase in employment opportunities, according the Department of Labor and Statistics, can be attributed to an increase in an aging population with respiratory disorders.
Work Environment
Respiratory Care Practitioners (RCP) work in a variety of environments. Because they work in medical facilities, such as hospitals that are always open, RCPs may work evenings, nights and weekend hours.
Pay
According to the Bureau of Labor Statistics, the median annual wage for Respiratory Care Practitioners was $62,810 in May 2020.
Important Links