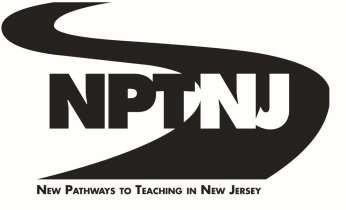 Whether you are contemplating a career change, just discovering you want to teach, or looking to fulfill a lifelong dream – New Pathways to Teaching in New Jersey (NPTNJ) could be the way you get there. .Union County College, New Jersey City University and participating NJ Community Colleges are offering an alternate route to teacher certification, which is an approved program of the New Jersey Department of Education (DOE). The courses are graduate level, and the program can be taken for credit or non-credit.
This program is for candidates who possess:
Bachelor's degree or higher from an accredited four year college or university
GPA of 3.0 or higher
Passing PRAXIS II score
Passing PRAXIS Core Academic Skills score
Introduction to Teaching 50 Hour Pre-service Completion Certificate
Certificate of Eligibility (CE) issued by the NJ Department of Education
How does the program work?
The NPTNJ program is divided into four sections: Semester I, Semester II, Semester III and Semester IV. Semester I does not require the candidate to have a teaching position, but the subsequent Semesters do. For people seeking NJ teaching certification in Business, please view this website for NPTNJ Alternate Route information.
What are the requirements to apply?
To enroll in Union County College Semester I, candidates must possess the following:
3 Official, sealed college or university transcript(s)
Copy of passing PRAXIS II score
Copy of passing PRAXIS Core Academic Skills score
Certificate of Eligibility (CE)
Minimum GPA of 3.0 recorded on an official transcript from a 4 yr. college or university (Certain exceptions can be made if the candidate's GPA is at least 2.75)
Candidates must complete the 50 Hour Introduction to Teaching course in order to enroll in the New Pathway's 400-hour program, which will be offered in a hybrid format over two years while the candidate is working as a teacher. They must also enroll in the school district's mentoring program. The NJ Department of Education will provide the candidates with a provisional teaching certificate while they complete the 400-hour program.
For further information, please contact Annette Castro at castro@ucc.edu or 908-709-7601.
Frequently Asked Questions Click Here
If you are interested in the "
New Jersey Career and Technical Education Certificate of Eligibility Educator Preparation Program
," please
click here
.